Pho is the quintessential must-try dish in Vietnam. It is a staple breakfast food, but no matter the time of day, you will find restaurants and street vendors serving the dish and many a contented soul crouching over a bowl and slurping the soup. Pho originated in Hanoi, so where better to try this dish than Vietnam?
1. Pho gia truyen
This rundown shop is located at the heart of the old quarter. Don't be discouraged by the little stools and basic tables, this is the best pho joint in all of Hanoi and has been there since the '60s, saving the same, consistent recipe that has remained unchanged since. You can tell you've arrived at the right spot when you see half of Hanoi queuing outside to get a fix, and, when table space runs out, people eat perched up on their bikes. The only thing on the menu is beef noodles, and the broth here is clear and rich with a subtle blend of many flavors. The beef is the right amount of tender and soft with a glowing pink hue, and no matter how many times you ask what their secret to the best bowl of pho is, they will not tell you!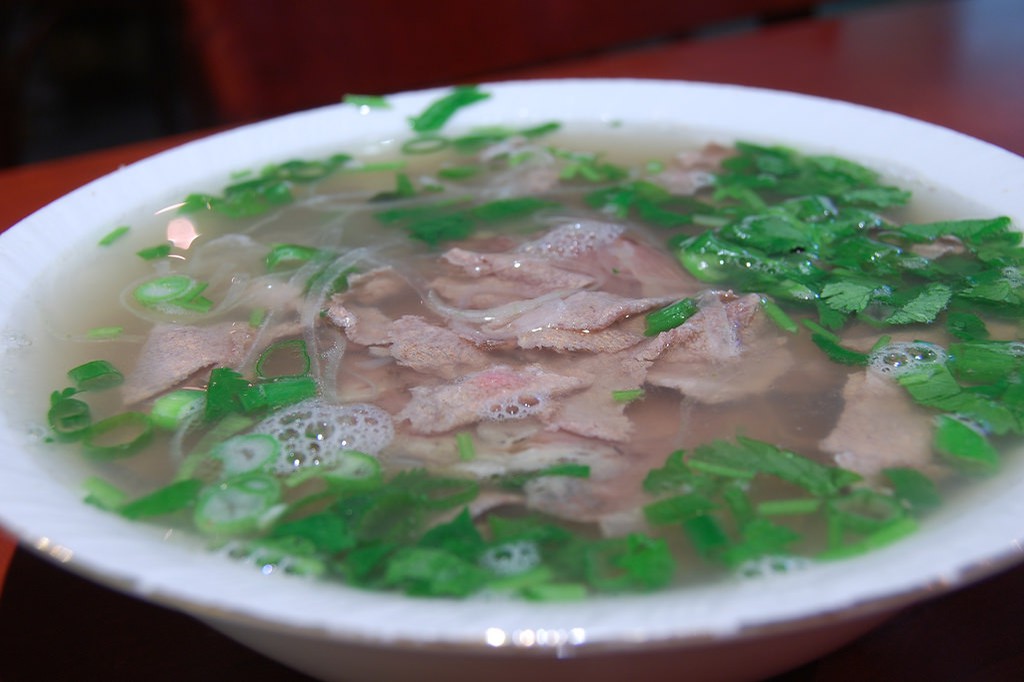 2. Pho Suong
Like all famous pho restaurants in Hanoi, Pho Suong has been around for many years, having earned a loyal customer base. The pho here is nothing short of amazing, perfecting the broth, the noodles, the herbs, vegetables and the pieces of meat. Certainly, a steal at just VND $45,000 ($1.98), you can enjoy your meal here and then go off wandering down Dinh Let street past the souvenir and art stores and then to the lake where you can sit on a bench and digest. Of all the pho restaurants in this article, Pho Suong has the nicest interior.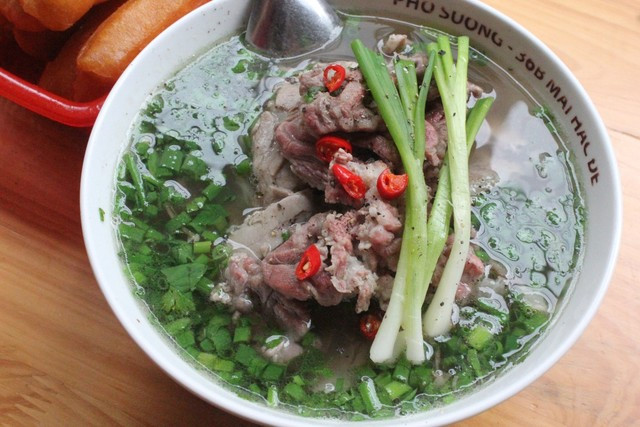 3. Duong's Restaurant & Cooking Class
It must be so strange when there is a restaurant which has no "pho" in its name in this list. Yes, because it has not only pho but also so many different food. However, pho from Duong's Restaurant is considered as one of the best dishes in The Old Quarter. Ranking at the top 10 restaurants in Hanoi and Ho Chi Minh City due to the result of TripAdvisor, Duong's restaurant becomes the best place for travelers with both Vietnamese traditional cuisines and western foods. The cuisines in Duong's restaurant is cooked and designed by Vietnam Top Chef Hoang Van Duong – Awarded Top 4 Vietnam Top Chef 2014, so it brings the best taste of Vietnamese food.
4. Pho Vui
Located within walking distance of Hanoi Old Quarter, Pho Vui specializes in beef noodles in many variations. You can get half-done steak, well-done steak, brisket with flank and fillet beef, etc. The broth may be fattier than those served in other restaurants, but it is delicious. Sit on one of the tables located on the sidewalk for a proper Vietnamese experience.
5. Pho Hanh
While traditional pho is made with beef, here you can get the modern adapted version with chicken. Opening only after the sun goes down, this location is famous among many young and trendy Hanoi youth, despite having to sit on the sidewalk on little child-sized plastic stools. You can opt for either the traditional soup-type pho or opt instead for the dry version of the pho, which is equally delicious if not more. Enjoy dinner here at least once and then go explore the rest of what Hanoi nightlife has to offer.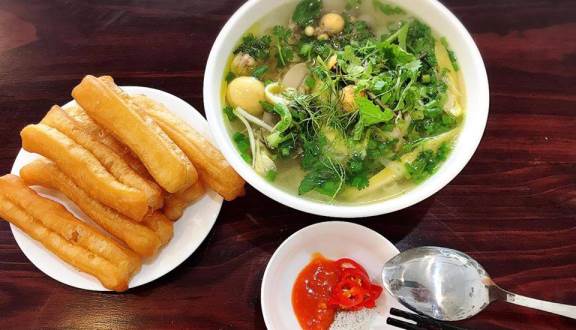 Book "Pho Hanoi" at Duong Restaurant: 
Reserve Now