Duong's Cooking Class is proud to be a cooking class in Hanoi that brings a lot of experiences for travellers visiting Hanoi. That is evidenced by the positive reviews of travellers. You can see below:
Take a cooking class
Amazing Cultural Cooking Experience – MUST DO!
My husband and I decided to take this class during our first visit to Vietnam. We were excited to learn how to cook some of our favorite foods and go to the market to buy some of the food fresh. The morning began with us being picked up promptly at our hotel by our host for the day, Johnny, and riding to Duong's Cooking School. Once we arrived, we met Chef Peter, who was going to lead the class. The menu for the day was: Hanoi traditional beef soup with rice noodle (Phở Bò), grape fruit salad with prawn & herbs (Salad tôm bưởi ), fresh spring rolls with pork & prawn (Gỏi cuốn tôm, thịt), and stewed pork with caramel sauce (Thịt ba rọi kho tàu).
We began by starting the broth for the soup and prepping some of the vegetables. Since the broth needed to cook for awhile, Johnny then took us to the market where we tried local produce (mangos were AMAZING) and banh cuon. We bought some of the fresh items we would need for our dishes later, such as the prawns!
When we returned, we got to work on creating all of our dishes. It was a ton of fun and Chef Peter was great about explaining why we do certain things and how to do them effectively. Once finished, we sat down to enjoy our feast! I would definitely recommend this for someone who wasn't a more culturally immersive experience!
What a great experience
Great cultural and culinary experience in the excellent and humourous company of Peter and Johnny. From explaining the benefits of preparing ginger to the proper way of buying fresh meat and sampling the joys of the market. Highly recommend this tour for a deeper insight to life in Hanoi and the Vietnamese way.
Excellent cooking class
I had a private cooking class today with Peter. He was wonderful and patient. He took me all over the market, introduced me to items new to me, and even offered to help me try some more exotic foods of Vietnam. The cooking class is very hands on. I couldn't believe how quickly the class goes by. You even get paper copies of each recipe made. Thank you for making my time in Hanoi delicious and wonderful!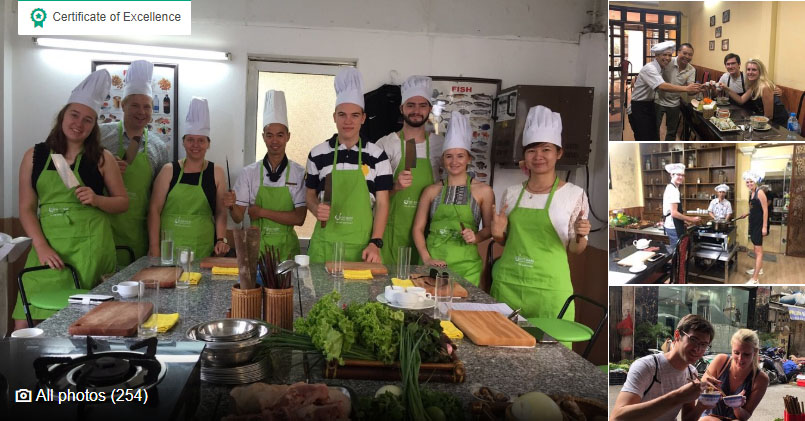 Great morning learning about Vietnamese cuisine
My wife arranged this as part of our trip and it turned out to be a fun part of our trip.
We were pickup and greeted by Johnny who is very friendly, made us feel very welcomed and the table and kitchen area were very well setup with ?on table. He then passed the stage to Chef Peter who gave us an overview of what we were expecting for the seesion then we started off with the fun stuff.
We started by preparing the broth for the PHO, then we had a tour around the local market and had the chance to try some local food and buy some local ingredients.
Then we went back and prepare the Bun Cha (grilled pork on charcoal) and PHO.
We then had a feast to try the PHO and Bun Cha that we parepared, it was delicious. we wrapped up by Johnny preparing a ??coffee with egg yolk topping, just as good and the famius ??dripping coffee.
My child had a great time lestning to cook and eat the food the helped prepared. Would strongly recommend to anyone coming to Hanoi to experience this.
Deliciously fun
My husband and I decided to do the morning – lunch class. We were picked up by Johnny and taken by scooter to the school. Johnny is very friendly, has great English and was a perfect host. When we arrived, we were greeted by Head Chef Peter. We had 1 other person in our group, so we got to be very involved. Firstly we helped Peter make a broth for the pho (noodle soup). He explained every step in detail and answered questions clearly. Then we prepared some ingredients for our spring rolls. Then Johnny took us via cycle to some local markets, always offering bottles of water if needed. While there, we got to taste some local fruit and he explained the various food they prepare and eat regularly, along with other common Vietnamese traditions. We walked back to the restaurant and made our fresh spring rolls and beef strips in bamboo (so unique). Then we ate it all and it was absolutely delicious! Johnny also took photos as we went along and made sure he sent them to us afterwards. This was a great class and I feel good value for money. We felt very welcomed and learnt a lot! Johnny can arrange a taxi back to your hotel if you wish, but we chose to walk. I would definitely recommend this class – and I don't even enjoy cooking usually!
Love the passion for cooking
This cooking class is so fun and great. Good way to learn about vietnamese cooking traditions. And trust me it tastes great in the end ??
Fabulous morning
We had such a great time at the Duong cooking class. It is a lovely mix of cooking, exploring the market, some more cooking and of course eating. Felt like we learnt a lot and even our young children could get involved. Staff were all great and very patient with the children and they loved the cycle ride to the market, wearing the chefs hat and trying some new food! Highly recommend it!
Marvellous experience
We were picked by promptly by Johnny who asked whether we wanted to get taken to the cooking class by car or motorbike. As quick as a flash, my husband says "motorbike" which I decided to agree with. Johnny took me and called a Grab bike for the second bike. It wasn't as bad as I expected as the traffic meant we couldn't go very fast.
At the cooking class room, we met Chef Peter and another couple also joining the class. First we helped prepare the pho broth as it needed to cook for three hours before serving. Once that was simmering away, we headed off in cyclos to the local food market. It was fantastic to wander through with Chef Peter who could explain what things were that we didn't recognise. We saw fresh beef, pork and chicken, all not refrigerated but super fresh. The locals buy fresh and use the same day. We saw live fish and a variety of other seafood including turtles. And then there was every kind of vegetable, herb and fruit. He bought us some bananas and freshly cut pineapple to sample and prawns, pork, noodles and pho for use in the class. We then walked back to the cooking school.
Once we were all back in the classroom, we prepared the pork for the bun cha, chopped the fillings for the fresh spring rolls and then learnt how to roll them. We made the dipping sauces for the spring rolls and bun cha. Finally it was all was ready, and we enjoyed our dinner of fresh spring rolls, bun cha and pho. We came away with recipes and some new skills to test out when we get back home.
More Than A Cooking Class
My wife and l attended Duong's Cooking Class this morning. What a wonderful experience it was! Chefs Alissa and Peter are the perfect hosts, gently guiding you through the process of cooking a beautiful Vietnamese meal!
They point out that "balance" in the flavours is a key component to Vietnamese cooking in the North. Well, they have the balance of this four hour workshop just perfect as well.First some food preparation, then a tour of the local market with Chef Peter being an encyclopaedia of food knowledge, sampling some local delicacies, back to the Cooking School to cook the food and then sitting down to enjoy the end results.
Thank you Alissa and Peter, we had such a great time learning under your guidance and being immersed in Vietnamese food culture for four wonderful hours.
Must do cooking class!
WOW! What a fantastic cooking class. It is hands on from choosing ingredients at the market to chopping and bbq skills. It's a step by step cooking experience that taught me to make pho (from scratch), bun cha, and fresh rice paper rolls. We had a wonderful feast eating our creations once we finished and were provided with written instructions of the recipes. The staff, from the customer experience guide to the chefs, were amazing. Obviously highly skilled but also warm and charming. This is a MUST DO if you love Vietnamese food and culture. Thank you for a wonderful experience.
Great food, amazing people
My wife and I had two amazing meals here during our visit to Hanoi. The stay was without exception warm, welcoming, and spoke great English. They were phenomenal with my food allergy and helping me navigate what dishes I could order. Lots of veggie and gluten free options. Really clean as well.
Family cookery class
Alisse and peter are wonderful we had such an amazing experience with them. From seeing the markets tasting everything to making the food and eating it every thing was just superb. I would highly recommend this experiment as an authentic insight into Vietnamese food and culture myself my hubby and twin boys aged 13 just loved the whole morning. Word of advice don't have breakfast before you go their is so much food to taste and enjoy x
Cooking class
LOVED IT!!!!!!!!!!! What an amazing experience in Vietnam. We enrolled for a cooking class at Duong's 2 Restaurant and Cooking Class with Chef Jack. He is truly a master chef and a very nice person. Chef Jack took us on a riksha bicycle tour to the market where we started the morning. We picked meat, fish, vegetables, fruit and herbs for our class. He showed us what to look for, and we had lots of fun buying it in thai (quite a difficult language). We often stopped at small shops where he bought us local and exotic foods to taste. That was so interesting. The class was just amazing, we loved every single minute of it. Must say, we felt like chefs ourselves afterwards ?. The photos is self explanatory. Overall, one of the highlights for us in Vietnam. Thank you Chef Jack!
Authentic Vietnamese cooking class with excellent chef
We were met by Chef Jack outside of our hotel room and he took us all over to do the local shopping for the meals we were going to create. We even got to taste test a few different fruits that we had never seen before on the street markets. We had a couple of picky people between me and my Husband, so Chef Jack was very accommodating and we changes the menu so that both of us were able to eat and try everything that was prepared ! We got right in there and chopped up food wash the food cut the food it was truly an interactive experience ! We highly recommend this Vietnamese cooking class Because Jack is an excellent chef with passion for what he does.
An exotic experience following a local chef for a 3-course meal preparation
Excellent arrangement, promptly time schedule, full of information on local market and variety of food.
The class was full of fun and invaluable hands on experience in Vietnamese cooking, our chef was very patience about our clumsiness but we surely enjoyed the "products" we did for ourselves, ha ha.
If you want to have a delicious meal without having to cook. Make a reservation at Duong's Restaurant