What to eat in Hanoi? Where to eat in Hanoi? are common questions for travelers visiting Hanoi, Vietnam. Today, Duongsrestaurant.com would like to share with you some delicious and popular dishes in Hanoi. And some high ranking restaurants on Tripadvisor.
Hanoi is not only the center of politics, economy, culture and society but also the center of cuisine, culinary arts. Cooking and enjoying dishes is an art of Hanoi people, but until now that habit still exists and has become a unique culture, appealing to anyone at their first coming there.
The sophistication of Hanoi cuisine is expressed in the way of processing, how to enjoy and also in the hearts of the givers and the receivers. Every Hanoi dish has its own flavor, beauty and especially the tradition, how to enjoy the tradition, so that it is not only ordinary food but upgraded to the culinary art.
Referring to Hanoi cuisine, it is impossible not to mention pho. Famous since the early twentieth century with the names Pho Thin, pho Gia Truyen, Pho 10 Ly Quoc Su … sold in the burden.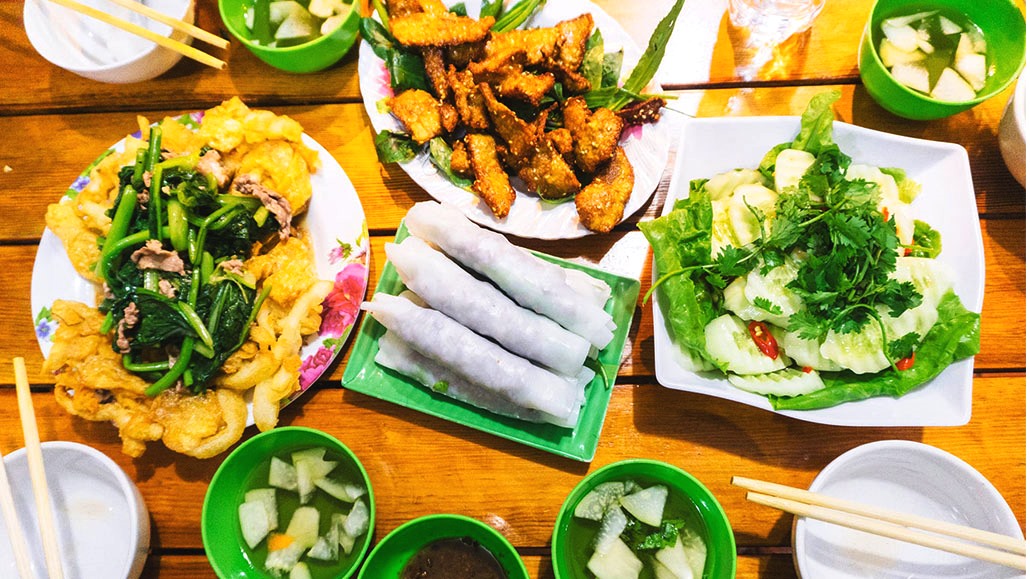 Today, Pho has become one of the most typical dishes of Hanoi, enjoyed by both small street stalls and luxury restaurants.
Along with pho and bun cha, Hanoi people also have many delicious dishes from shrimp and fish. The most remarkable thing is banh tom (shrimp in batter) and cha ca. Banh tom Ho Tay is still a famous and delicious dish. La Vong grilled fish has been a famous specialty of Hanoi for hundreds of years. This is also the only dish used to name a street in Hanoi Old Quarter, Cha Ca Street.
To develop and preserve the traditional dishes of Hanoi, today, Hanoi has its own culinary culture street, which is Tong Duy Tan street and Hang Bong alley, also known as Cam Chi lane. During the French colonial period, this street was named Brusseaux, after it was changed to Ky Dong, until 1964 it was changed to Tong Duy Tan.
What to eat and where to eat in Hanoi Vietnam
1. Noodle Soup (Pho)
Noodle Soup (Pho ) is a dish that you'll consume frequently during your trip to Vietnam. Pho Bo is simply beef noodle soup and is the classic preparation of this ubiquitous dish. You can also get Pho Ga which is made with chicken instead of beef.
Pho Bo starts with steaming beef broth that has been simmering on the stove since early in the morning. The broth is poured over a bowl full of rice noodles, onions, and scallions. It's then topped with various cuts of beef and a pinch of cilantro.
Your Pho comes served with a plate of fresh bean sprouts, basil, mint, jalapeno slices, and a lime wedge so you can season your bowl to your own personal taste. You'll also find pickled garlic, fish sauce, black pepper, and Hoisin sauce on the table at most Pho restaurants if you want to experiment with flavors.
You may be asked to choose what cuts of meat you would like in your Pho. If you're a newbie you might want to stick with well-done brisket (chín) or rare round steak (tái) that is quickly cooked by the boiling broth. If you want to be more adventurous, try fatty brisket (gầu), tendon (gân) and tripe (sách).
* Pho gia truyen:
Add: 49 Bat Dan, Hoan Kiem, Hanoi
Open: 6h00 – 10h00 | 18h00 – 20h30
Price: 30.000VND – 55.000VND
* Pho Thin
Add: 13 Lo Duc, Hai Ba Trung, Hanoi
Open: 6h00 – 20h30
Price: 40.000VND – 60.000VND
* Pho 10 Ly Quoc Su
Add: No. 10 Ly Quoc Su, Hoan Kiem, Hanoi
Open: 6h30 – 22h30
Price: 50.000VND – 70.000VND
2. Noodle Roll (Pho cuon)
Noodle Roll (Pho Cuon) is basically all the ingredients of Pho, but without the broth. It consists of strips of grilled beef and lots of herbs like cilantro, basil, and mint, all rolled up in a wide rice noodle. So instead of using a spoon and chopsticks, you just dip them in a bowl of nước chấm (sweet fish sauce) and enjoy!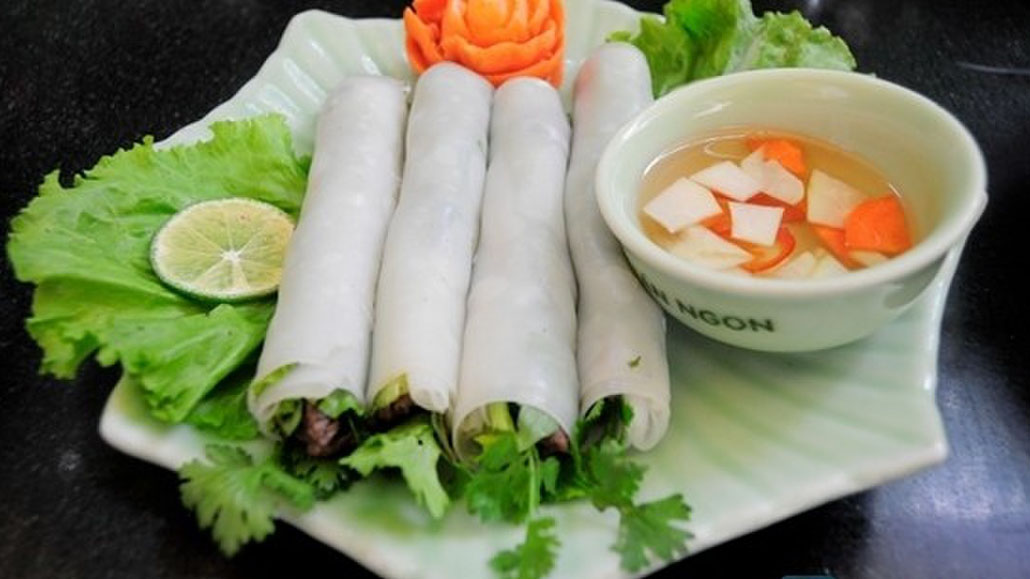 Pho cuon Huong Mai: 25 Ngu Xa, Ba Dinh, Hanoi. Price 55k/dish. 
Phở cuon Hung Ben: 33 Ngu Xa, Ba Đinh, Hanoi. Price 55k/dish. 
3. Noodle with chicken soup egg and pork (Bun thang)
Bun thang or rice noodle with chicken, egg and pork can be enjoyed at any time of the day. The clear yet flavourful broth is made with 20 ingredients, including dried shrimp, squid, shrimp paste, spring onion, coriander, ginger, mushroom, beet, fish sauce, sugar candy, and vinegar. It is also a particularly attractive Hanoi dish as the noodles, chicken, eggs, pork slices, and a dollop of shrimp paste are carefully arranged to resemble a flower. Available mostly within Hanoi Old Quarter,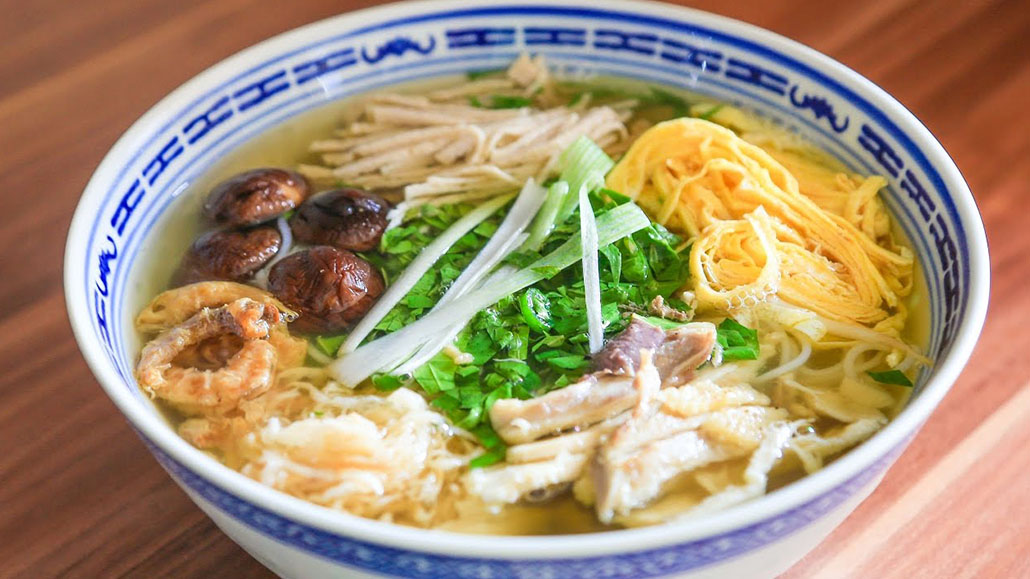 Bun thang Cau Go: 32 Cau Go, Hoan Kiem, Ha Noi. Price 35k/bowl.

Bun thang Hang Hom. No. 2 Hang Chi lane, Hang Hom, Hoan Kiem, Ha Noi. Price 35k/bowl.
4. Noodle with grilled meat (Bun cha)
Noodle with grilled meat (Bun Cha) is maybe the most iconic dish in Vietnam, especially in the North.
Bun Cha is made of grilled fatty pork and pork meatballs served in a bowl of nước chấm – fish sauce mixed with garlic, chili, sugar, and lime juice. You'll also typically find a few pickled vegetables floating in the bowl as well.
Alongside your bowl of pork and nước chấm you'll be served a side of vermicelli noodles, a small bowl of sliced chili peppers, and a heaping plate of fresh herbs and lettuce leaves.
There are different ways of eating bun cha depending on whether you're in Northern or Southern Vietnam. But since you're in the North just throw everything in your bowl of nước chấm and dig in!
Bun cha Huong Lien or Bun cha Obama: 24 Le Van Huu, Hai Ba Trung, Hanoi. Price 45k /pax

Bún cha Duy Diem: 140 Ngoc Khanh, Ba Dinh, Hanoi
5. Noodles with crab (Bun rieu cua)
Noodles with crab (Bun rieu cua) comprises thin rice noodles with freshwater paddy crab and shrimp paste that's served in tomato broth. A breakfast staple amongst locals, the dish is also garnished with bean sprouts, prawn paste, herb leaves, tamarind/lime, tofu, water spinach, and tomato chunks. Like most Vietnamese noodle soups, local restaurants offer a basket of greens and herbs on each table, such as leaf lettuce, perilla leaves, cilantro, shredded morning glory stem, and also deep-fried crullers for dunking directly into the soup.
Bun rieu pho Quang Trung: 2F Quang Trung, Hoan Kiem, Hanoi. Price 35k-45k/bowl. 

Bun rieu pho Nguyen Sieu: 32 Nguyen Sieu, Hoan Kiem, Hanoi. Price 35k-45k/ bowl. 
6. Grilled Fish (Cha Ca)
The dish consists of grilled fish with turmeric and dill and the best Cha Ca is traditionally made from Hemibagrus (a species of catfish). These days, however, due to the rareness of Hemibagrus, you'll likely wind up eating Snakehead fish or Mudfish.
To make Cha Ca the fish is deboned, cut into pieces, and seasoned with turmeric and other spices. It is then wrapped in banana leaves and grilled over a charcoal fire. When the fish is brought out to you it is cooked a second time at your table in a skillet full of green onions and dill.
You'll also be brought plates of vermicelli rice noodles, chili peppers, cilantro, peanuts, and a bowl of fish sauce. Once the Cha Ca is ready you'll fill your bowl with the grilled fish, green onions, noodles, and top it with everything else. The wide array of flavors compliment each other perfectly! If there is a single dish that is considered the food of Hanoi it is Cha Ca and you should absolutely try it while you're in the capital of Vietnam.
The original Cha Ca restaurant is Chả Cá Lã Vọng and most people agree that the restaurant has become too popular for its own good. The result is higher prices, poor quality, and long wait times. Best to skip this Hanoi institution and get your Cha Ca fix elsewhere.
Cha ca La Vong: 14 Cha Ca street, Hoan Kiem, Hanoi

Cha ca Thang Long: 19, 21, 31 Đuong Thanh street, Hoan Kiem, Hanoi

Cha ca Anh Vu: 120 Giang Vo street, Ba Dinh, Hanoi
7. West Lake shrimp cake (Banh tom Ho Tay)
Shrimp cakes, one of top 7 specialties of Hanoi, were sold only on Co Ngu street (the old name of Thanh Nien street) in the past time but now this type of cake are also sold in the luxury restaurants. However, most of visitors who used to go to Hanoi will eagerly seek a chance to enjoy the specialty West Lake shrimp fried cake in Banh Tom Ho Tay restaurant, not only because of shrimp cake itself, but also for the beautiful scene view at West Lake. It is so great to enjoy delicious shrimp cake here at sunset in summer.
The West lake shrimp cakes are delicious not because they were made from the precious ingredients but it was made with the chef's love. The cake crust is made from the scrumptious flour. The shrimps are the one grown in Westlake because only this shrimps can bring customers the very unique taste. Besides, the frying oil is the scrumptious oil also. It was boiled to the suitable degree in order for the cakes do not soak too much oil and has nice look and good taste. The sweetness, aroma of shrimp, the delicious taste of crackers and sour, spicy sauce will remind of the bland flavor at the tip of the tongue. It's very great if you enjoy shrimp cakes when it is hot because at that time, the cake is very brittle and shrimp is not fishy. The sauce to eat with this cake is the combination of sweet and sour tastes and cucumber, green papaya, and carrot. The eater could take a bite of the cake together with cold beer, and enjoy the nice smell coming from the stove and the breeze blowing from the lake. Then people may seek somewhere in their memory the fairy tale about the Golden Buffalo on the way looking for his lost mother, which created the West Lake.
Life has changed. The ways of selling and enjoying shrimp fried cakes are also different from the previous ones. However, the shrimp fried pancake of West Lake still keeps its traditional flavor and taste so that whoever wanting to enjoy it will be surprised at the hot, cracker cake dipped in salty, sweet, sour and spicy sauce.
West Lake shrimp cake: Thanh nien Street, Tay Ho district, Hanoi. Price: 80k – 150k/pax
8. Bread (Banh Mi)
Bread (Banh Mi) –  everyone's favorite snack! The term Banh Mi literally just means "bread" in Vietnamese. So any type of sandwich prepared in the country is referred to by the same name.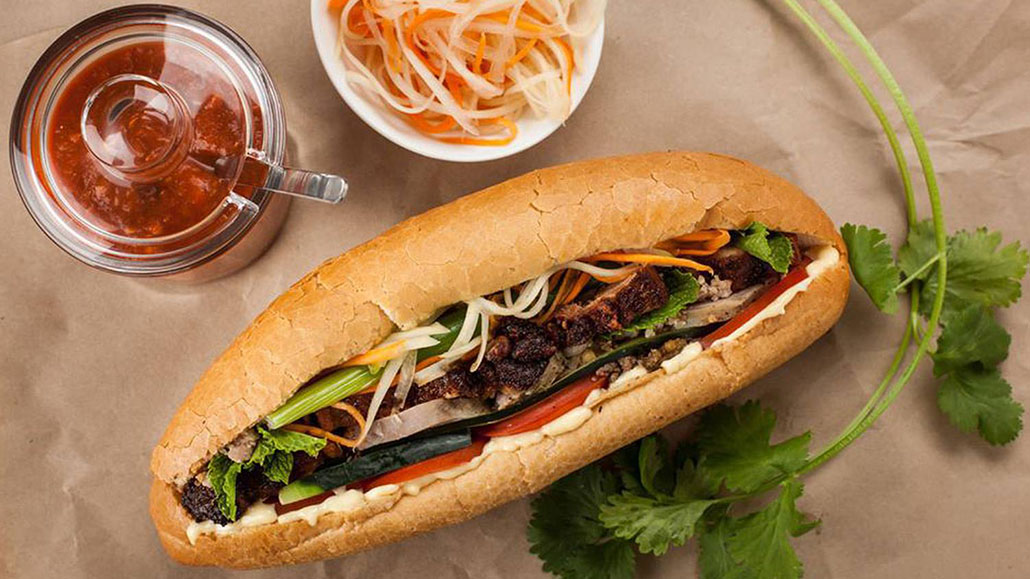 You will find, however, that most Banh Mi share a few common ingredients. These include a toasted French baguette, pate, mayonnaise, pickled vegetables, and coriander (cilantro). For your main ingredient you'll generally have the choice of fried egg, barbeque pork, pork floss, and a variety of mystery meats lined up in their cart.
If you're feeling adventurous just tell them you want a Banh Mi and you'll get a mix of everything they have on hand.
If you want to order it without coriander make sure you memorize the phrase "không có rau mùi"!
Banh Mi 25: 25 Hang Ca street, Hoan Kiem, Hanoi
9. Egg Coffee (Ca phe trung)
Egg coffee (Ca phe trung) was first invented by Nguyen Giang in 1946. There was a shortage of milk in Hanoi due to the French War. Mr. Giang got creative and began adding whisked eggs to his coffee instead.
The original version was a bit, well, eggy. But over time the recipe was modified with the addition of sugar, condensed milk, and even Laughing Cow cheese (no one knows for sure, it's a secret recipe). These days Egg Coffee is a staple of Hanoi coffee culture and a must-try while in Hanoi!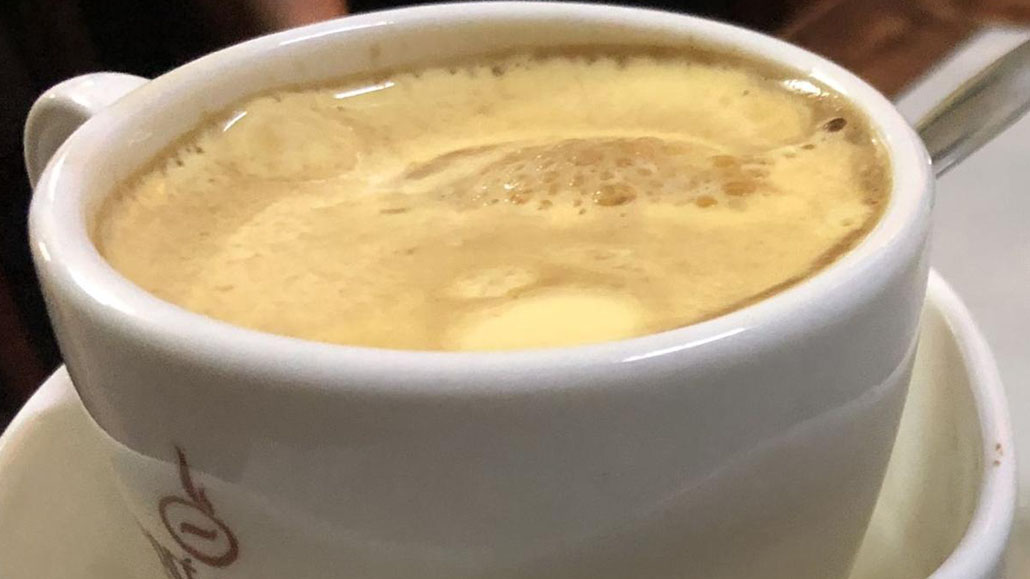 What does it taste like? Well, it's incredibly thick and rich and creamy. Closer to a dessert than a beverage. Liquid tiramisu is the most accurate description we've heard.
Nguyen Giang still has a cafe where you can try his famous recipe, or you can grab a cup of Egg Coffee at dozens of coffee shops all over Hanoi. And if you're heading to Southern Vietnam there is also a burgeoning egg coffee scene in Saigon!
Giang Cafe: 39 Nguyen Huu Huan street, Hoan Kiem, Hanoi.

Cafe Dinh: 13 Dinh Tien Hoang street, Hoan Kiem, Hanoi.
10. Fresh beer (Bia Hoi)
Bia Hoi is beer that is brewed fresh each day and allowed to ferment for only a short period of time. This results in a light, crisp beer than typically is just around 3% alcohol. It is then delivered daily to local Bia Hoi joints in metal kegs that are ready to be tapped and served.
You'll find Bia Hoi down some of Hanoi's alleyways and backstreets for as little as 6,000 VND for a glass. Expect to pay closer to 11,000 VND at more popular Bia Hoi joints around town.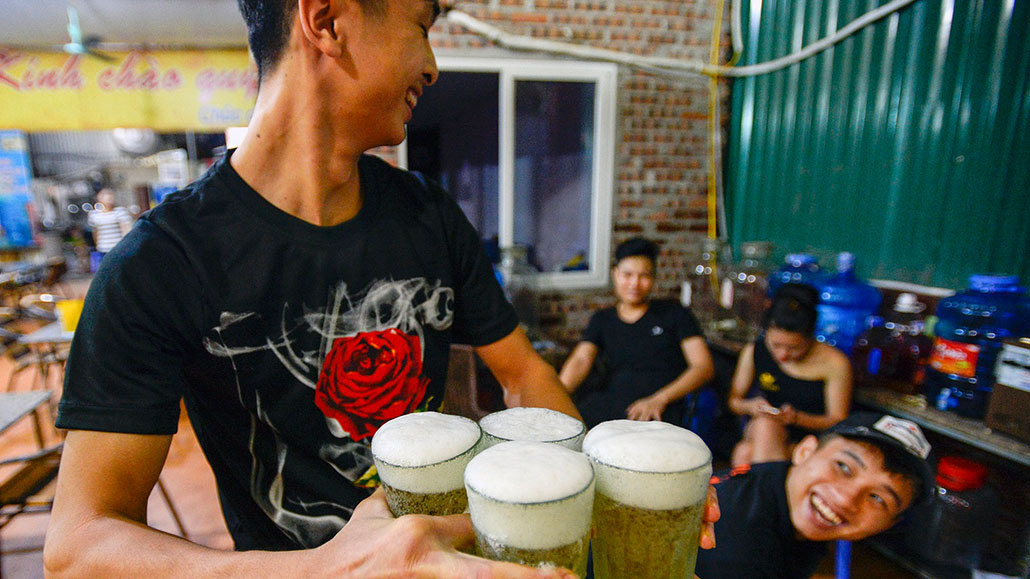 Drinking Bia Hoi on a tiny plastic stool is a right-of-passage for anyone visiting Vietnam. And while the craft beer scene has been taking hold in Vietnam, most locals still prefer a cheap glass of cold Bia Hoi.
A lot of people will tell you to head straight to Beer Corner (sometimes also called Bia Hoi Junction) in the Old Quarter to get your Bia Hoi fix – makes sense, right? But sadly, none of the bars on Beer Corner actually serve Bia Hoi any longer due to narrow profit margins. Instead, they all serve plain old cans or bottles of Bia Ha Noi, Heineken, and Tiger. Regardless, you should spend an evening hanging out on Beer Corner, even if you can't get Bia Hoi as it's always a good time!
Bia Hoi Ha Noi: 50 Bat Dan street, Hoan Kiem, Hanoi

Bia Hoi Ngcc Linh: 71 Bat Dan street, Hoan Kiem, Hanoi
Best Restaurants in Hanoi 2020
1. JW Cafe
If you are looking for the best place to eat in Hanoi, you should definitely visit JW Cafe. As one of the top restaurants in Hanoi, JW Cafe offers a sumptuous buffet that serves Vietnamese food, international dishes, fresh seafood, bbq and excellent sweet treats. Your taste buds will be satisfied with specialties from well-known cuisines, such as China, Japan, Korean, and the Mediterranean. At Hanoi's best buffet restaurant, you will be impressed not only by the quality of the foods, the variety of the dishes but also by the stunning lake view of the restaurant and the thoughtfulness of the staffs.
Address: 8 Do Duc Duc, Nam Tu Liem, Hanoi, Vietnam
2. Duong's Restaurant
My name is Hoang Duong, my food journey started when I was a young boy living in the village. My Vietnamese food passion was ingrained when I was a child and watched my father preparing my family meals. My father was a master in the kitchen and he instilled in me the importance of using fresh ingredients when cooking the family meals.
As I traveled down the road to where I am now, I kept building knowledge and authentic cuisine recipes learnt from my father previously. I had a belief that whilst freshness of ingredients was a core key, another key to deliver dishes with full of flavor was to use only the best local produce. My influence makes the seasonality of produce the most important aspect of the menu here at Duong's Restaurants, this is the reason why the menu often continues to evolve in line with the availability of produce.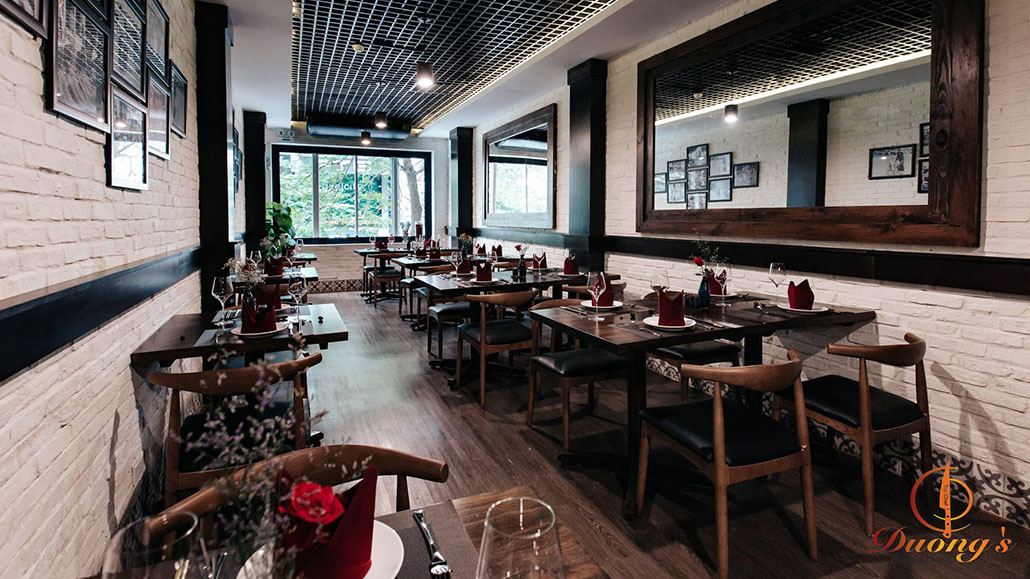 I am proud to launch Duong's Restaurants & Hanoi Cooking Classese as my first solo venture and the first leg of my journey and vision. The 1st one is in Hanoi — Duong restaurant in Ngo Huyen street then the one in Ma May street marked as my 2nd Duong's restaurants in Hanoi. Lately, the Restaurant in Saigon is proudly opening, this is 3rd Duong's restaurant. I am honoured to share this journey with my family, friends and most importantly, with you — our beloved customers. I hope you will enjoy the journey that I am going to take you on where I'll beautifully present you a mix of traditional Vietnamese dishes with Vietnamese / French fusion dishes.
Locations:
DUONG RESTAURANT NGO HUYEN
27 Ngo Huyen Street, Old Quarter, Hoan Kiem District, Hanoi, Vietnam
DUONG RESTAURANT MA MAY
101 Ma May Street, Old Quarter, Hoan Kiem District, Hanoi, Vietnam
Reserve Now
3. Essence Restaurant
Located on the ground floor of Essence Hanoi Hotel, the Essence Restaurant offers authentic Vietnamese dishes in an elegant, refined setting. Featuring an exotic décor which draws on the aesthetics of both colonial Vietnam and cutting edge contemporary design, Essence Cafe & Restaurant is considered by many as one of the best restaurants in Hanoi.
Address: 22 Ta Hien, Hoan Kiem, Hanoi, Vietnam
4. Cloud Nine Restaurant
To be on Cloud Nine is to be in a blissful state of happiness. A number of conflicting theories abound as to the origins of this phrase. One of the most popular attributes it to the fluffy white cumulonimbus. This is the ninth cloud out of ten types first identified in the 1896 International Cloud Atlas which rises as high as a cloud can go, hence the sense of being 'on top of the world'. Others attribute it to the mystical divine number nine or to Buddhism which says cloud 9 is a stage in the search for enlightenment.
We chose to call our new restaurant Cloud Nine because we are confident after dining here you will feel extremely happy and satisfied. Located on the 9th floor and encased in walls of floor to ceiling windows, with soft cream drapes, the 360 degree views across Hanoi's rooftops, Hoan Kiem Lake and Red River are breathtaking and inspiring. Flooded with light and a feeling of openness the concept of seeing the outside world is just as important as what is within.
The restaurant and bar area are classically styled calling to mind an Indochina area. A color palette of black, white, creams and blue-greys partners with geometric shapes of striped furnishings and square patterned floor tiles.
The menu features the very best in authentic flavorful Vietnamese cuisine including dishes from all regions of the and an extensive selection of favorite international fare. Creatively presented and technically exquisite each dish takes the diner on a culinary journey through food.
While no one really knows how the term Cloud Nine came about, one thing we are certain about is that visiting Cloud Nine gives the feeling one is dining high in the clouds above Hanoi.
Address: 27 Hang Be, Hang Bac, Hoan Kiem, Hanoi, Vietnam
5. 3 Spoons
A lively restaurant with skyline views over Hanoi, 3 Spoons from InterContinental Hanoi Landmark72 not only offers extensive breakfast buffet, but also a choice of three cuisines and interactive open stations, where guests can witness our chefs' inspiring craftmanship.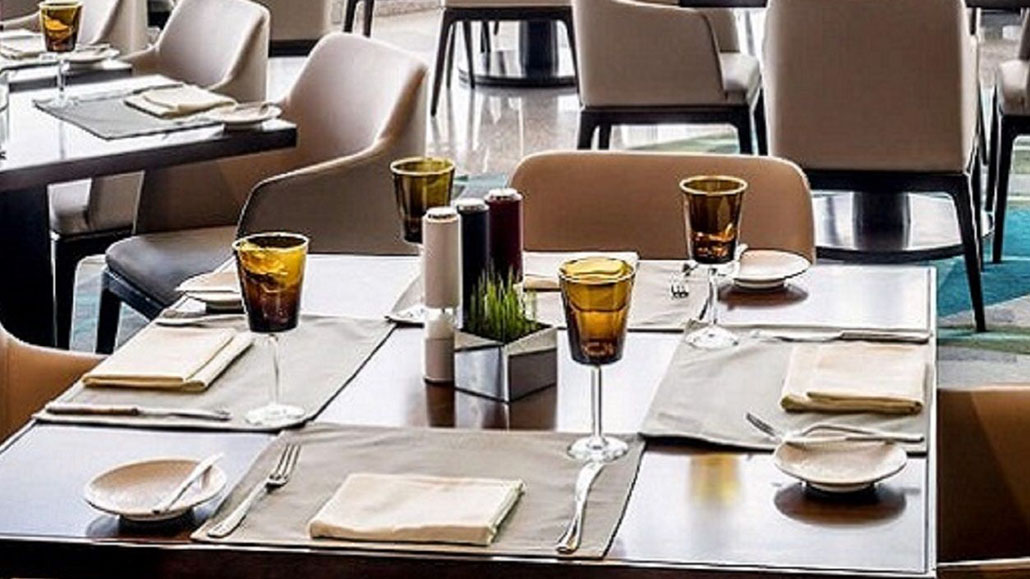 Sample authentic dishes from Vietnamese and Chinese cuisines, savour fresh local and imported seafood from the Japanese kitchen, or enjoy fragrant Italian breads, pasta and stone-oven pizzas.
3 Spoons' Chef de Cuisine Doan Trong Dat shared: "One of the values that 3 Spoons has upheld to is serving only fresh, high-quality organic ingredients sourced from mainly local farms right here in Vietnam. Everything is carefully selected and examined to make sure every dish we serve at 3 Spoons is InterContinental standard".
Address: Keangnam Hanoi Landmark Tower, Hanoi, Vietnam
6. Mâm Cơm Việt Restaurant
Mâm Cơm Việt is not only the symbolic meaning for Vietnamese culinary traditions, cultures but also humanistic values of spiritual, ritual and practical heritages in each family. Family values are expressed through a meal of two to three different generations living under one roof, through the way children respectfully invite grandparents, parents, the way we pay attention to care and pick up food for each other. Sitting together, talking about daily topic while eating is also the way each Vietnamese child has early life awareness which influences on shaping their worldview and thought.
We want to convey meaningful messages of Vietnamese spiritual and cultural values ​​to customers visiting our restaurant. Moreover, we want to bring you closer to the traditional culinary of Vietnam. We truly hope that Mâm Cơm Việt is not just a restaurant where we enjoy lunch and dinner, we would like to make it as a home away from home for customers where they can spend time gathering together, enjoying many delicious typical Vietnamese foods. Our desire is to bring peace, happiness, rusticity, honesty to our beloved customers so that they can experience the daily meals as millions Vietnamese. Hence, Mâm Cơm Việt is a special name and memorable impression; wonderful highlight of your adventure to our motherland.
Nothing could be fantastic than savoring tasty lunch or dinner whilst immersing yourselves in romantic atmosphere of our restaurant, enjoying hustle and bustle view of the Old Quarter through the large and wide windows. Above all, with enthusiastic, friendly team, we always thrive our best to listen and meet the of various customers all over the world from every single details.
Address: JM Marvel Hotel, 8, 9, 16 Floors Hang Da, Hang Bong, Hoan Kiem, Hanoi, Vietnam
7. Era Restaurant
Well-located in the very heart of the vibrant Old Quarter of Hanoi, also in the walking street Ma May, ERA Restaurant is one of the best choices for Traditional Vietnamese Food
At Era our vision is to become one of Vietnam's leading restaurant brand serving modern Vietnamese cuisine with high quality and innovative ideas but never forgetting the roots and value off true and authentic Vietnamese cooking.
Let our menu take you on a culinary Vietnamese journey stimulating the senses and taste buds.Colors, flavors and fragarances off our famous and not so famous national and regional dishes are combined and exquisitely presented. Dine at Era and fall in love with Vietnam.
Address: 48 Ma May street, Hang Buom, Hoan Kiem, Hanoi, Vietnam
8. Blue Diamond Rooftop Bar & Restaurant
The 13th floor has taken on a new identity through some inspired design. A spiral staircase leads from the Gourmet Corner to the first of three overlapping levels of stylish skylight bar space. The three terraces are at angles crafted from glass, metal and wood complemented by a monochromatic color palette of black, granite grey and hints of cream. The first contains the bar, spacious open kitchen and seating areas. More chill out seating is on the second level while the top section is an exclusive space reserved for special occasions.
Welcome to the Diamond Sky Bar with sublime 360-degree panoramic views of Hanoi. Witness evocative Hoan Kiem Lake in its entirety and take in five bridges spanning the mighty Red River — Nhat Tan (the newest bridge), Long Bien (the most iconic), Chuong Duong, Vinh Tuy and a glimpse of Thanh Tri. On a clear day, the Ba Vi Mountain range ('Lord of Mountains') 70km west of Hanoi is clearly visible. In front of the Red River, spy sections of Hanoi's 3.85km-long mosaic ceramic wall peeking out in between the buildings. This wall is listed in the Guinness World Records as the longest pottery road in the world. It commemorates Hanoi's 1,000th anniversary in 2010.
The bar will be one of the coolest places in Hanoi for watching at least three New Years' Eve freworks displays (across Hoan Kiem Lake, from Gia Lam and Thong Nhat Park). A personal touch features in the second level design. It resembles the profile of a grand piano, which in part, pays tribute to EHG Chairman's daughter. The meaning of her name embodies connotations of the word piano. This sparked the idea for its shape. In addition, a grand piano represents the concept of elegance and luxury to which EHG aspires.
Address: No 32 Lo Su St, Old Quarter, Hoan Kiem Dist, Hanoi, Vietnam
9. Red Bean Cau Go Restaurant
The view from Red Bean Cau Go's floor to ceiling windows and upper terrace leads your eyes across the treetops across the entire Hoan Kiem Lake making this Red Bean restaurant one of the most iconic. Situated on the 7th floor of La Siesta Premium Cau Go, the restaurant is classically styled in a fusion of Vietnamese and French elements. A color palette of black, white, creams and blue-greys, together, sophisticated furnishings, checkered floor tiles and latticed floor to ceiling windows with soft light drapes transports you back to an Indochina era.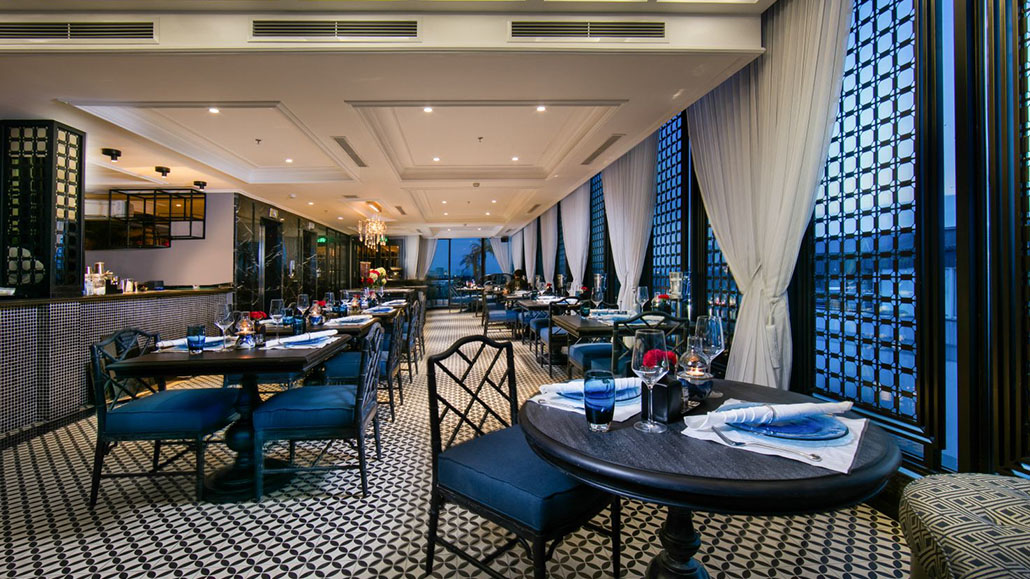 At night twinkling city lights and multi-colored reflections across Hoan Kiem Lake create a romantic backdrop.
Address: No. 1 Cau Go, Hang Bac, Hoan Kiem, Hanoi, Vietnam
10. Home Moc Restaurant
With one foot in the past and one stepping boldly into the future, Hanoi is poised to become the next big thing on the cultural world map. Behind every door, every shop, every smile and every corner, there is an untold story waiting to be told. And behind one of those doors is HOME Mộc Hanoi, a classic French Villa that has been meticulously maintained through the years. Taking everything that makes Hanoi a magical place and concentrating it at one spot with a striking wooden design and furnishing, HOME Mộc will enthrall you at first sight and offer you memories that will be spoken of for many years to come.
At HOME Mộc we have dedicated ourselves to bringing you the very best of Vietnams rich and varied palate with a special focus on the most exquisite seafood available on the market. Each ingredient has been sourced from local vendors and handpicked with utmost care by our expert chef in order to give justice to our recipes that have been handed down through generations.
A meal at HOME Mộc is not just simply dinner; it is a journey through the culture, the history and the heritage of Vietnam through the senses of its people through time. Every last grain of rice presented on your table represents the indomitable will of the nation to bring you the very best and to make sure your soul is in complete equilibrium by the time you take your leave; joy is best when shared.
HOME Mộc seeks to mirror the national spirit of Vietnam; the relentless struggle for improvement and perfection, with one foot in the past and another boldly stepping into the future.
We believe it is important to anchor ourselves in our roots; Vietnamese cuisine needs to reflect local traditions and well-kept family secrets. We pride ourselves on offering the very best the nation has to offer and hope that you will come to share our passion for the food that we love and cherish.
Address: 31 Van Ho 2, Le Dai Hanh, Hai Ba Trung, Hanoi, Vietnam
We have just discovered, What to eat in Hanoi? Where to eat in Hanoi? Right now, you can order a delicious meal at one of the top restaurants in Hanoi.
Reserve Now