Hanoi's top romantic restaurants specially cater to couples looking to enjoy an unforgettable night out in Vietnam's capital. Boasting picturesque surroundings, delectable cuisine, and quality wines from reputable vineyards across the world. Many of these luxurious dining venues are located close to the iconic Hoan Kiem Lake, where you and your beloved can enjoy a leisurely stroll after a romantic dinner together. Ideal for wedding anniversaries, Valentine's Day, and extravagant first dates, check out our list of Hanoi's top romantic restaurants.
1. La Badiane Hanoi
La Badiane Hanoi is an award-winning restaurant in Hanoi's Hoan Kiem District, combining traditional French cuisine with Vietnamese flavours. Established in 2008, this stylish dining venue occupies a whitewashed colonial villa that's fitted with large windows overlooking a lush courtyard. The upper level has two elegant dining rooms, where you can enjoy a private meal with friends and family, while the ground floor offers a more relaxed yet sophisticated setting.
2. La Verticale Hanoi
Located in Hanoi French Quarter, La Verticale Hanoi is an elegant fine-dining restaurant that's housed in a French colonial-style villa. Established by Chef Didier Courlou, the restaurant's seasonal menu utilises French techniques as well as the region's freshest farm produce, herbs, and spices.
With the villa's original white walls and tiled floors intact, the upstairs dining area is fitted with simple décor, wooden furnishing with white tablecloths, and an open kitchen that delivers quality French-Indochinese cuisine. La Verticale Hanoi also has a spacious roof terrace with comfortable armchairs and excellent views across downtown Hanoi, French Quarter, and Hoan Kiem Lake.
3. Duong's Restaurant & Cooking Class
For top of the line Vietnamese cuisine, give Duong's Restaurant a visit and let them pamper you with world-class service as you enjoy fantastic local dishes. This restaurant makes some of the best local food that you'll ever taste. And if you want to take some of their skills home with you, be sure to sign up for one of their acclaimed cooking classes. You can both enjoy your meal and see The Old Quarter with a view from the balcony of this restaurant. Duong's has 2 restaurants, one in Ma May street and one in Ngo Huyen street.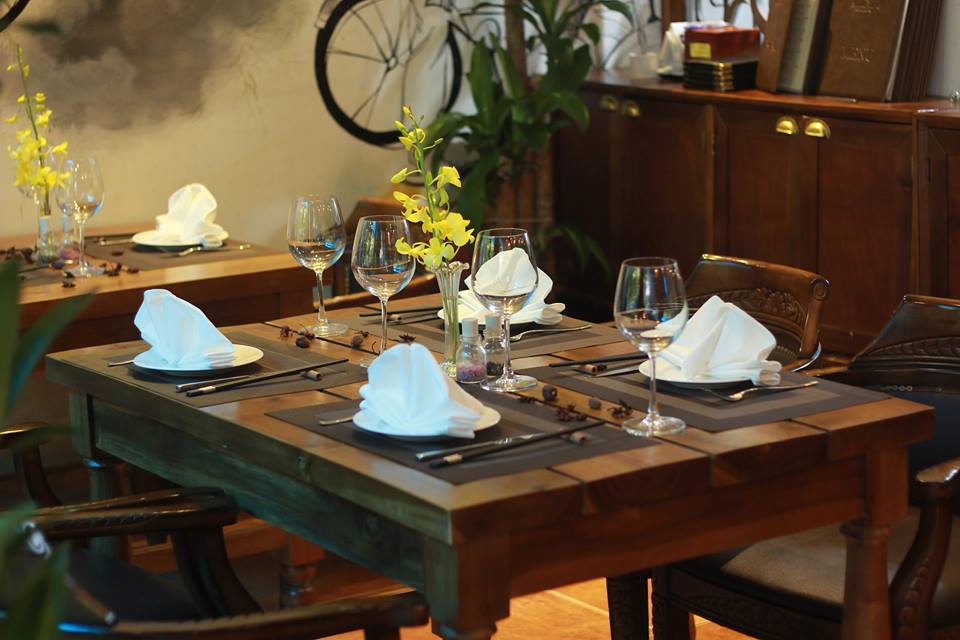 4. Skyline Restaurant
Located on the top floor of Tirant Hotel with warm space and melodious music, Skyline Restaurant is one of the most romantic restaurants in Hanoi. After a work-hard week, let yourself relax with a cocktail or sweet wine while listening to chill-out music and watching the stunning view of Hoan Kiem Lake, Long Bien Bridge or sunset,… will be an interesting dining experience.
One of the highlights of the restaurant is the pool area where brings a pleasant and comfortable atmosphere for guests. The restaurant's menu offers both Asian and Western dishes with beautifully décor; all will surely help you have a perfect dating with your lover.
5. Rue des Seaux Restaurant
Rue des Seaux is located on the top floor of the luxurious Boss Legend Hotel, offering the panoramic view of central Hanoi, Hoan Kiem Lake and the red River. With premier location and impressive interior design, the restaurant is really a perfect dating destination for couples. The menu offers a wide options from European dishes to Vietnamese cuisine. You can choose buffet, A la carte menu or Set menu, including a lot of delicious international and Vietnamese dishes.
Book romantic restaurants in Hanoi:
Reserve Now