Top romantic restaurants in Hanoi specially cater to couples looking to enjoy an unforgettable night out in Vietnam's capital. Boasting picturesque surroundings, delectable cuisine, and quality wines from reputable vineyards across the world. Many of these luxurious dining venues are located close to the iconic Hoan Kiem Lake, where you and your beloved can enjoy a leisurely stroll after a romantic dinner together. Ideal for wedding anniversaries, Valentine's Day, and extravagant first dates, check out our list of Hanoi's top romantic restaurants.
Top 10 best romantic restaurants in Hanoi
When it comes to finding the perfect romantic restaurant in Hanoi, you are spoiled for choice. The city is known for its vibrant culinary scene, offering a wide range of dining options that cater to every taste and preference. Whether you are planning a special occasion or simply want to enjoy a romantic dinner with your loved one, Hanoi has something for everyone.
In this article, we have curated a list of the top 10 romantic restaurants in Hanoi. From rooftop dining with breathtaking views to cozy and intimate settings, these establishments offer a memorable experience that will leave you and your partner enchanted. Indulge in exquisite cuisine, soak in the romantic ambiance, and create lasting memories in these captivating venues.
1. Duong's Restaurant: A fusion of flavors in a romantic setting
For top of the line Vietnamese cuisine, give Duong's Restaurant a visit and let them pamper you with world-class service as you enjoy fantastic local dishes. This restaurant makes some of the best local food that you'll ever taste. And if you want to take some of their skills home with you, be sure to sign up for one of their acclaimed cooking classes. You can both enjoy your meal and see The Old Quarter with a view from the balcony of this restaurant. Duong's has 2 restaurants, one in Ma May street and one in Ngo Huyen street.
Open time: 11:00am – 22:00pm
2. Lighthouse Sky Bar & Restaurant: A perfect spot for aromantic dinner
Perched on the rooftop of a hotel, Lighthouse Sky Bar & Restaurant offers a stunning panoramic view of Hanoi's skyline. The combination of a romantic setting and delectable dishes makes it a perfect spot for a romantic dinner. From freshly caught seafood to deliciously prepared steaks, their menu has something for every palate. Sip on a cocktail as you watch the sunset and let the city lights mesmerize you. Lighthouse Sky Bar & Restaurant is sure to create a magical evening for you and your loved one.
Address: 27a Hang Be street, Hoàn Kiem district, Hanoi, Vietnam
Open time: 17:00pm – 00:00am
3. Skyline Hanoi: Dining at new heights
Located on the top floor of Tirant Hotel with warm space and melodious music, Skyline Restaurant is one of the most romantic restaurants in Hanoi. After a work-hard week, let yourself relax with a cocktail or sweet wine while listening to chill-out music and watching the stunning view of Hoan Kiem Lake, Long Bien Bridge or sunset,… will be an interesting dining experience.
One of the highlights of the restaurant is the pool area where brings a pleasant and comfortable atmosphere for guests. The restaurant's menu offers both Asian and Western dishes with beautifully décor; all will surely help you have a perfect dating with your lover.
Address: 38 Gia Ngu street, Hoan Kiem Hanoi, Vietnam
Open time: 11:00am – 23:00pm
4. Grill63: An elegant restaurant with stunning vistas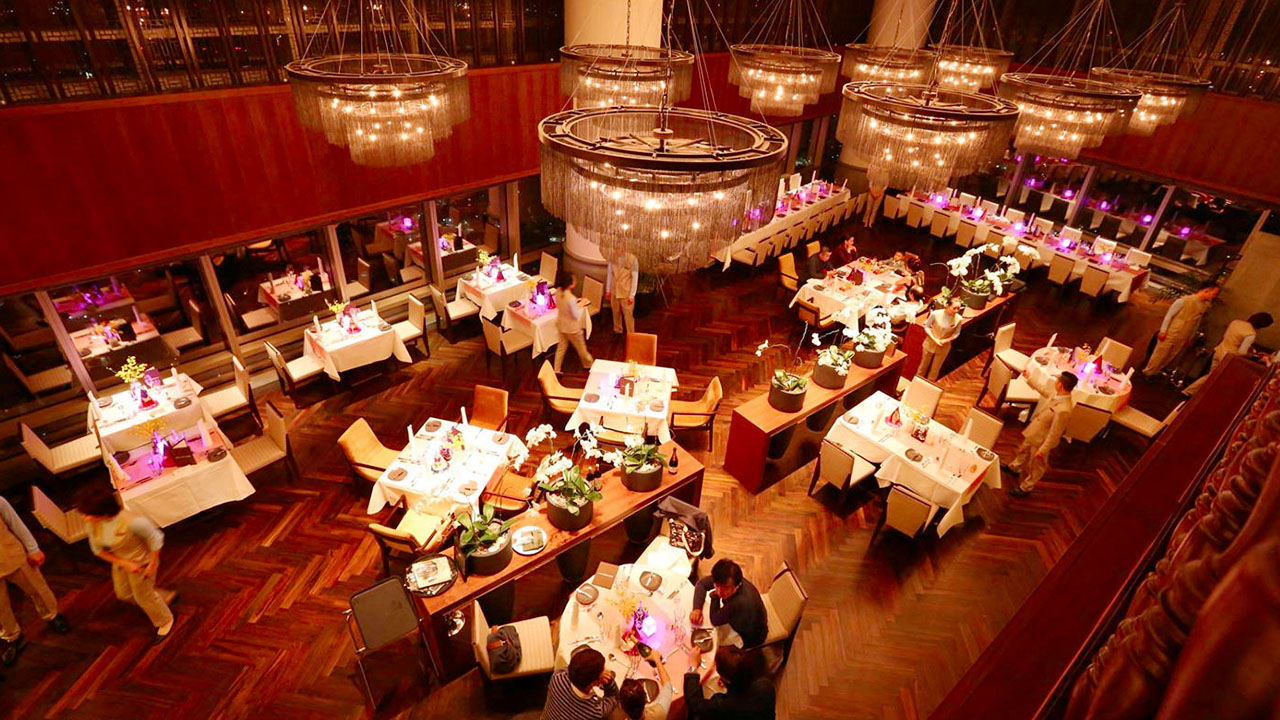 Located on the 63rd floor of a luxury hotel, Grill63 is an elegant and sophisticated restaurant known for its romantic atmosphere and stunning vistas. As you savor their delectable cuisine, you will be treated to panoramic views of Hanoi's skyline. From expertly grilled steaks to fresh seafood, their menu offers a wide selection of dishes to suit every taste. Refined service and a curated wine list complete the dining experience at Grill63.
Address:  54, Lieu Giai street., Cong Vi Ward, Ba Dinh district. Hanoi, Vietnam
Open time: 11:30am – 22:00pm
5. Red Bean Ma May: Intimacy and coziness in Hanoi's Old Quarter
Tucked away in Hanoi's historic Old Quarter, Red Bean Ma May offers an intimate and cozy setting for a romantic dinner. The restaurant exudes charm, with its elegant décor and warm lighting. Their menu showcases traditional Vietnamese cuisine with a modern twist, using local ingredients. Indulge in dishes like caramelized chili prawns or braised pork belly, and let the flavors transport you to the heart of Vietnam. Red Bean Ma May is the perfect place to create a romantic and memorable evening.
Address: No.94 Ma May street, Hoan Kiem district, Hanoi, Vietnam
Open time: 11:30am – 22:00pm
6. The Gourmet Corner Restaurant: French and mediterranean cuisine with a view
Situated on the 9th floor of a luxurious hotel, The Gourmet Corner Restaurant offers stunning views of Hanoi's majestic Hoan Kiem Lake. This intimate and stylish restaurant specializes in French and Mediterranean cuisine, prepared with a creative flair. From gourmet salads to succulent grilled meats, their menu is a fusion of flavors that will tantalize your taste buds. The Gourmet Corner Restaurant is the ideal choice for couples who appreciate fine dining and breathtaking surroundings.
Address: No.22 Ta Hien street, Hoan Kiem district, Hanoi, Vietnam
Open time: 11:00am – 22:00pm
7. Cloud Nine Restaurant: A dining experience on cloud nine
True to its name, Cloud Nine Restaurant offers a dining experience that will leave you on cloud nine. Located on the 9th floor of a modern building, this restaurant boasts a panoramic view of Hanoi's skyline. The contemporary design and romantic ambiance create the perfect setting for a special evening. Delight in their selection of international dishes, expertly prepared by the talented chefs. Cloud Nine Restaurant is the place to be for couples looking for a memorable dining experience in Hanoi.
Address: No 27 Hang Be street, Hoan Kiem district, Hanoi, Vietnam
Open time: 11:30am – 22:00pm
8. The Rhythms Restaurant: Old-world charm and modern elegance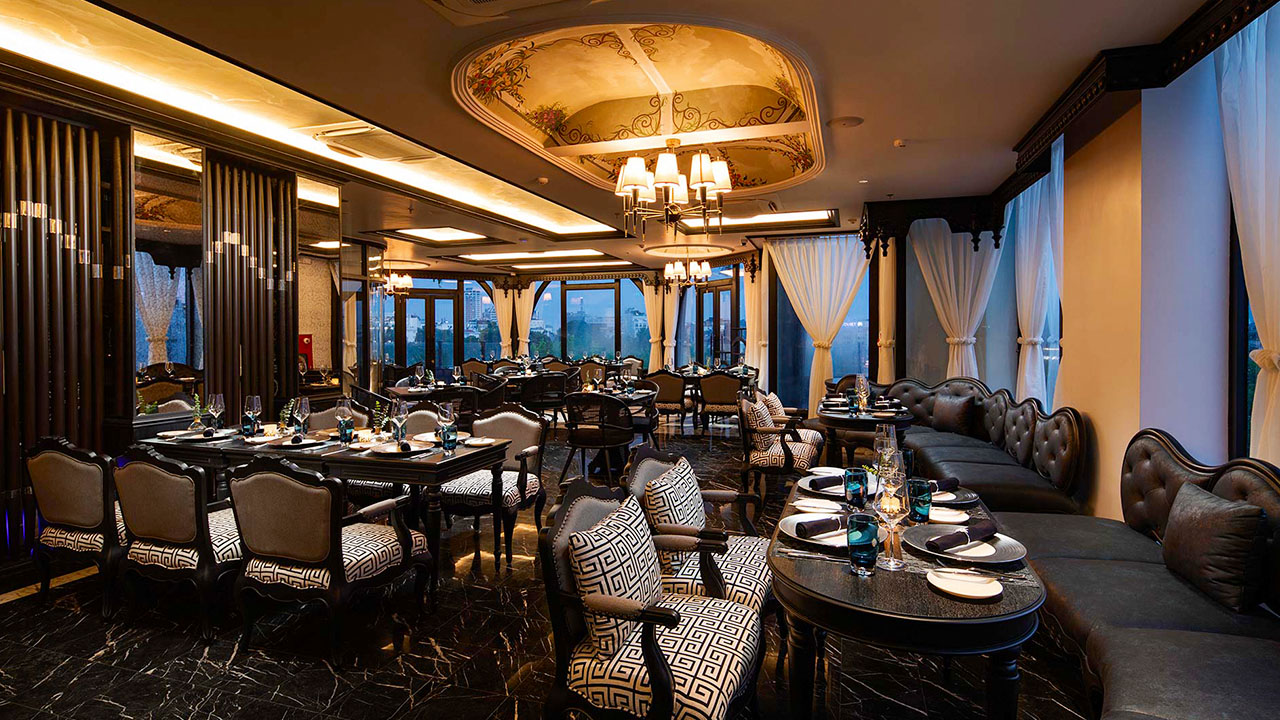 The Rhythms Restaurant offers a unique and romantic dining experience in Hanoi. Set in a beautifully restored colonial-era villa, the restaurant combines old-world charm with modern elegance. The menu showcases a mix of Vietnamese and international flavors, with a focus on fresh ingredients. Indulge in their flavorful dishes, accompanied by a wide selection of fine wines that complement the flavors. The Rhythms Restaurant sets the stage for a romantic evening filled with delicious cuisine and a charming ambiance.
Address: 7th floor, La Sinfonía del Rey Hotel & Spa (no. 33 – 35 Hang Dau Street, Hoan Kiem District, Hanoi)
Open time: 06:30am – 22:00pm
9. Home Mộc Restaurant: Warmth and authenticity
For a truly intimate and homely experience, Home Mộc Restaurant is the perfect choice. Tucked away in a small alley, this hidden gem provides a warm and cozy atmosphere, reminiscent of a traditional Vietnamese home. The menu features authentic Vietnamese dishes, prepared with love and care. From aromatic pho to flavorful spring rolls, every dish is a delightful journey through the country's culinary heritage. Home Mộc Restaurant offers a romantic and authentic dining experience that will transport you and your partner to the heart of Vietnam.
Address: 75 Nguyen Dinh Chieu street, Hai Ba Trung district, Hanoi, Vietnam
Open time: 11:00am – 22:00pm
10. French Grill: A journey to the traditional French cuisine
Situated in a historic French colonial building, French Grill is a sophisticated restaurant known for its classic French cuisine. The elegant interior, adorned with crystal chandeliers and wooden accents, sets the stage for a memorable dining experience. Indulge in dishes like beef wellington or pan-seared foie gras, expertly crafted by their talented chefs. Impeccable service and an extensive wine list complete the refined ambiance at French Grill. Treat your loved one to a journey through the traditional flavors of French cuisine.
Address: 8 Do Duc Duc, Me Tri, South Tu Liem, Hanoi, Vietnam
Open time: 18:00pm – 22:30pm
Restaurant dining experience
A restaurant dining experience can vary widely depending on the type of restaurant, its ambiance, cuisine, and service level. Here is a general overview of what you can expect during a typical restaurant dining experience:
Reservations: Many upscale or best restaurants in Hanoi require reservations, especially during peak dining hours. It's a good idea to call ahead and secure a reservation if you plan to dine at such a place.
Arrival: Upon arrival at the restaurant, you'll be greeted by a host or hostess who will check your reservation and guide you to your table. Some restaurants may have a waiting area where you can relax until your table is ready.
Seating: You will be shown to your table, which may be in the main dining area, a private dining room, or an outdoor patio, depending on the restaurant's layout and the weather.
Menus: A server will provide you with menus, which may be printed on paper or presented on a digital device, depending on the restaurant. The menu will list the available food and drink options, along with prices.
Ordering: You'll have the opportunity to ask questions about the menu and seek recommendations from the server. Once you've made your selections, you'll place your order with the server. Some restaurants may offer tasting menus or chef's specials in addition to their regular menu.
Drinks: You can order beverages, which may include alcoholic drinks, non-alcoholic beverages, and water. The server will take your drink orders and serve them to you.
Food Preparation: The kitchen staff will prepare your food according to your order. This may take some time, especially if the restaurant is busy or if you've ordered dishes that require special preparation.
Appetizers: If you ordered appetizers or starters, these will be served first. Appetizers are meant to whet your appetite and are usually smaller dishes.
Main Course: After you've finished your appetizers, the main course will be served. This is typically the largest and most substantial part of the meal.
Dessert: If you have room for dessert, you can order sweet treats to end your meal. Dessert menus often include cakes, pastries, ice creams, and other indulgent options.
Service: Throughout your meal, the server will check on you to ensure you have everything you need. They will refill your drinks, clear empty plates, and address any requests or concerns you may have.
Payment: When you're ready to leave, you can request the bill from your server. You can pay by cash, credit card, or other accepted payment methods.
Tipping: In many countries, it is customary to leave a gratuity (tip) for the server, typically calculated as a percentage of the total bill. The exact percentage may vary by region and restaurant policy.
Departure: After paying the bill, you can leave the restaurant. If you enjoyed the experience, it's common to thank the staff on your way out.
The overall dining experience can range from casual and relaxed to formal and elegant, depending on the type of restaurant you choose. High-end restaurants often prioritize attentive service, exceptional cuisine, and a unique atmosphere, while more casual establishments may focus on offering a comfortable and friendly dining environment. Regardless of the type of restaurant, the dining experience should be an enjoyable and memorable one.
Conclusion
Hanoi offers a plethora of romantic dining options, from rooftop restaurants with breathtaking views to cozy venues exuding charm. Whether you're looking for a fusion of flavors or traditional Vietnamese cuisine, these top 10 romantic restaurants in Hanoi are sure to create an unforgettable experience for you and your loved one. Embark on a culinary adventure, ignite the flames of love, and let the enchanting atmospheres and exquisite cuisines of these restaurants create beautiful memories that will last a lifetime.
Tags: romantic restaurants in hanoi, romantic dinner in hanoi, romantic restaurants hanoi, romantic places in hanoi, romantic restaurants, romantic dinner, romantic restaurants near me, romantic restaurant, best romantic restaurants near me