Hanoi capital has been famous for many specialties for a long time. Hanoi people are famous for their elegance, gourmet, stylish and taste. The best food in Hanoi have come into the folk song, living in the consciousness, affection of each person.
In Hanoi Old Quarter, there are many streets named local food or products, such as Cha Ca Street, Hang Ga Street, Hang Bot Street, Hang Chao Street, Hang Bun Street … this way of naming is rare in other cities. When you want to buy something or enjoy food, people just go to the street named that thing.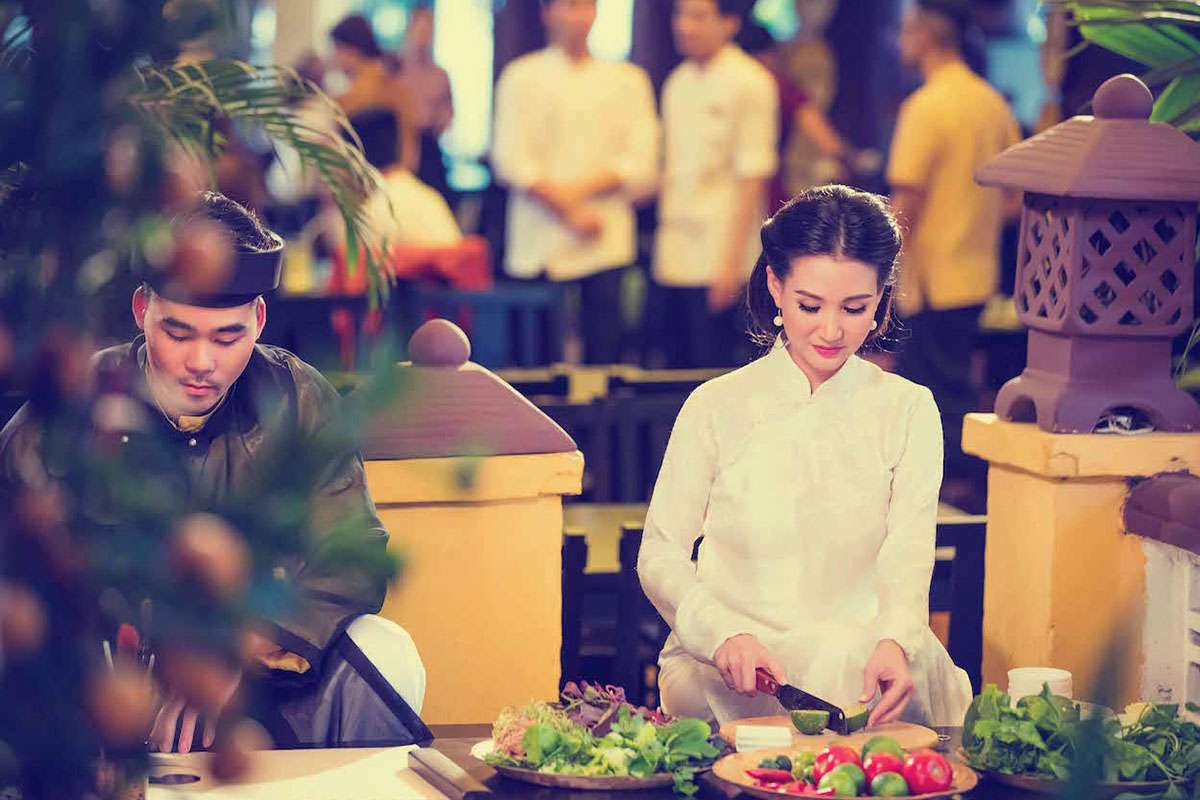 Mentioning to Hanoi, people think of elegance and sophistication in the way to dress, prepare and enjoy delicious food. Eating is not simply a matter of eating but it is also a hobby, a way to express each person's personality and interests.
To feel the culture, style or habits of Hanoi people, you should wake up early, immerse yourself in the exercise people, watch the hawkers, breakfast places and do not forget choosing for yourself a delicious dish such as Pho, Bun rieu cua, hot "banh cuon", bun thang .. or simply hot donut.
Best food in Hanoi Old Quarter
If you are traveling to Hanoi Old Quarter for the first time, you will be overwhelmed by food stalls, with many dishes that make it difficult for you to make an accurate choice. Now duongsrestaurant.com would like to introduce some delicious dishes in Hanoi Old Quarter for your choices.
1. Pho (Noodle Soup)
Pho is a dish not to be missed when traveling to Hanoi. Famous beef noodle dish is Pho Quoc Quoc Su. If you want to eat chicken noodle soup, you should go to chicken noodle restaurant located on Quan Thanh street.
Unique tasting sweet and sour noodle soup at Pho Hanh (Lan Ong street) or Pho restaurant located on Luong Van Can street. Pan-fried Pho is at Bat Dan street. If you come to Hanoi and you didn't enjoy Pho Hanoi, you would had never been there.
Duongsrestaurant.com would like to recommend you a Pho restaurant in Hanoi that diners are so crowded that they often have to queue for a long time to buy Pho, which is Bat Dan.
Address is at 49 Bat Dan, the shop opens in the morning from 6:30 – 8:30. Price: about VND 60,000/ bowl.
Pho is present in all provinces of Vietnam, but only enjoying Pho in Hanoi is really delicious. 49 Bat Dan heirloom pho is true to the taste and special style that Hanoi people, wherever they go, they cannot forget it.
There are a few interesting things to eat in Bat Dan noodle, delicious pho, fresh and fragrant beef, sweet bone broth, just like traditional Hanoi pho. But the most special thing is that customers who come here must queue and pay in advance and then have to bring the hot noodles to their seats by themselves.
When you invite each other to enjoy Pho Dan, you should go with 2 people, 1 person buys pho and 1 person holds a seat first because the restaurant is very crowded.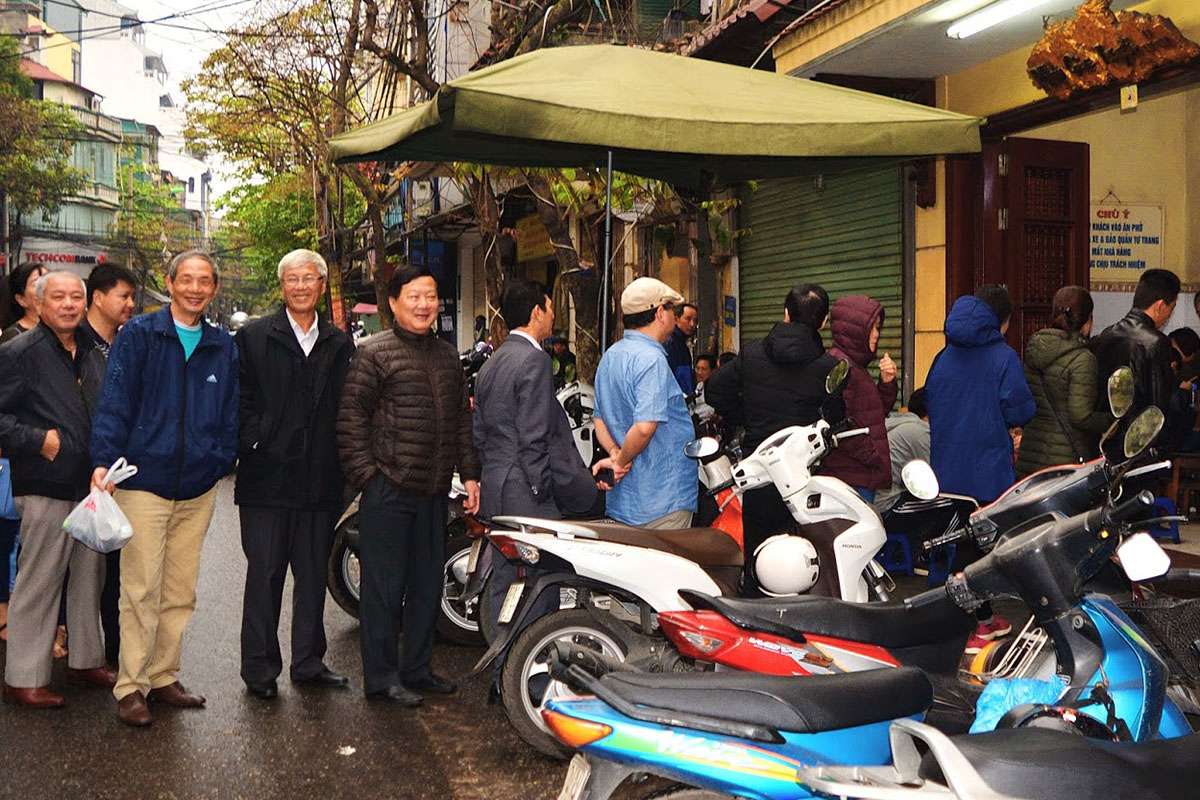 The queuing scene is not the scene of jostling in the messy queue and worrying about holding on to the wallet lest it be picked up by the crooks, lining up to wait to enjoy a delicious Pho so everyone is calm , someone even brought the newspaper to read, leisurely waiting for his turn.
Bat Dan noodle shop is quite small, low, only a few rough wooden furniture tables, old, has existed for nearly half a century but not much has changed. The noodle kitchen is located near the entrance. A man exaggeratedly sliced ​​thin but large pieces from the fragrant cooked beef causing cow odor.
The beef flank or beef brisket is not too fat, but it is like wax, crunchy, not tough, very attractive to the eyes, smell and taste of customers. Squeeze a few drops of bitter sour of lemon with a bit of hot chili sauce, add some bagel twists (quay) , you can swirl the bowl of hot noodles on a cold windy day.
2. Bun Cha
Bun cha Hang Manh, Bun cha Mai Hac De, Bun cha Huong Lien (Bun cha Obama) are famous bun cha restaurants of Ha Noi, because of their characteristic flavor, beautiful presentation and especially very delicious.
In the old town of Hanoi, to enjoy delicious bun cha, you can go to No.1 Hang Manh, bun cha Dac Kim (from 1965). The highlight here is that the ingredients, pork must be fresh bacon or armpits, minced then seasoned and grilled on charcoal. Prices range from VND 50,000 to VND 60,000 / portion.
3. Cha ca La Vong (La Vong grilled fish)
Coming to Hanoi without tasting La Vong grilled fish is really flawed. This dish is interesting at the table where diners will have a small kitchen to keep the fish always hot. Diners will always turn the piece of fish, add a little vegetables to accompany, feel like eating at home that makes the party so.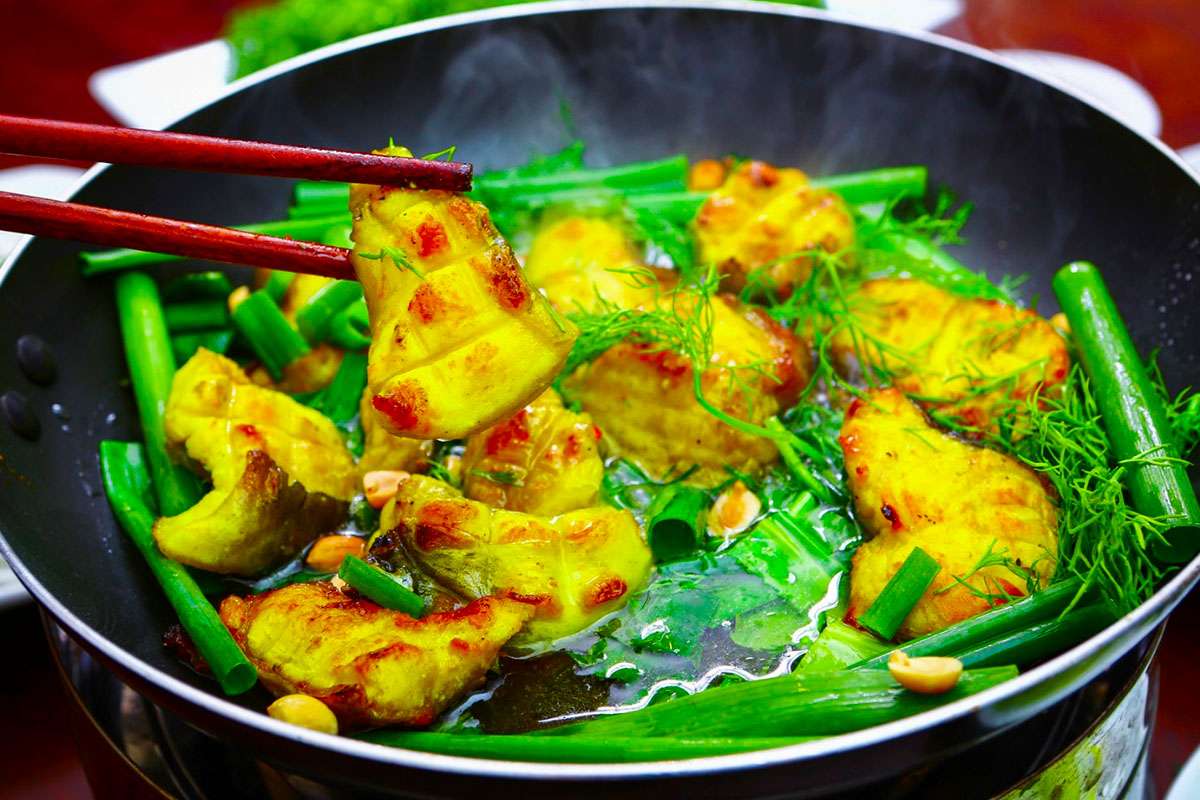 Fish are fried in a small oil pan, each dining table will have a small charcoal stove and fish pan placed on top. Fish served with roasted banh da (rice paper), rice noodles, with roasted peanuts, coriander, basil, dill, freshly chopped onions dipped with shrimp sauce. Shrimp paste must be prepared by squeezing fresh lemon, adding chili, stirring on the effervescence and adding a bit of Ca cuong essential oil, a few drops of white wine, a little grease and sugar.
The dish is rich in sweetness, fatness, fatness of pieces of hemibagrus fish, snake head fish. Diners put onions, dill in the pan and stir well. Put some rice noodle into the bowl, add some peanuts, a stem of herbs, a piece of fish and a few sautéed onions in a steaming hot pan, sprinkle it on a small spoon of shrimp sauce and start enjoying. Each of these things mixed together to create the famous taste of Hanoi specialties.
Most foreign tourists coming to Hanoi who want to enjoy this dish visit La Vong grilled fish restaurant with over 130 years of business. Grilled fish of La Vong restaurant is mainly made from hemibagrus fish, snake head fish, so the meat is firm and chewy. Pieces of fish chopped moderately, when ripe yellow slightly curly. Crispy at the surface but soft in the middle, marinated to taste and fragrant.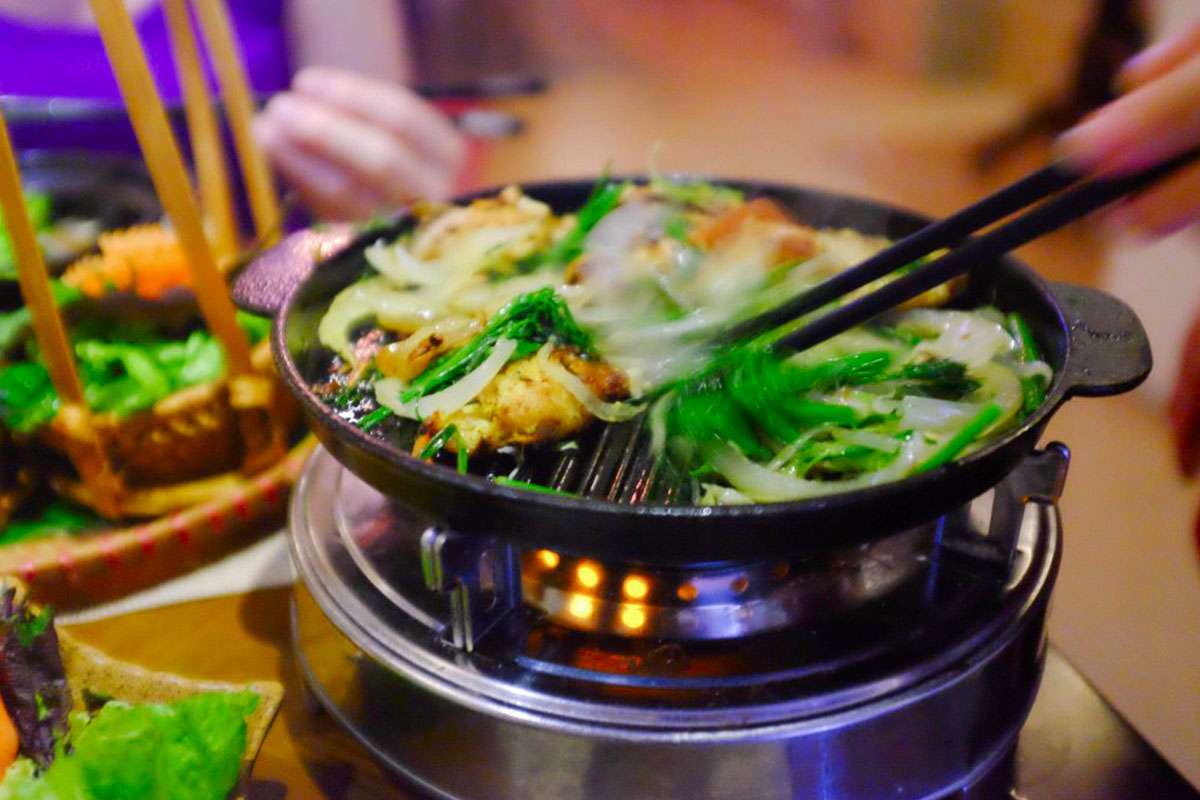 Bowl of fish sauce is not salty, but not strong, but retains the characteristic smell. The fat sweetness of La Vong grilled chopped fish with the aroma of vegetables and the salty of shrimp sauce makes many people crave. The price of a La Vong grilled fish is VND 175,000 per person.
Address: 14 Cha Ca street and 107 Nguyen Truong To. The restaurant on Cha Ca street is tight but it is a facility from the past, and at Nguyen Truong To is cleaner and more spacious, suitable for large groups of people.
In addition, you can taste La Vong grilled fish at Duong Restaurant at 27 Ngo Huyen or 101 Ma May Street.
Cha ca Thang Long- Address: 19, 21, 31 Duong Thanh. Price from 150,000 VND per person.
Cha ca Anh Vu – Address: 120 Giang Vo – With a reasonable price 130,000 VND per portion.
4. Banh Com
Banh Com is an ancient dish that often appears in the ceremony, accompanied by spousal cake to create beautiful red-green pairs. With a fresh green crust, green bean paste with the typical aroma of young nuggets, it is an attractive smelling.
The best Banh Com are sold at Nguyen Ninh store No. 11 Hang Than. Up to now, Nguyen Ninh is still selling Banh Com with the traditional method of making them. The young glutinous rice crumbs are fresh green with light, thin skin and you can even see the yellow and green bean paste inside. The smell of fragrant young glutinous rice blends with the greasy aroma of coconut and green beans, the smelling was mesmerized.
The Banh Com looks simple but undergoes elaborate processing. Right from the stage of selecting ingredients, choosing the kind of young glutinous rice crumbs and green beans for delicious, you have to be very careful. The people at Nguyen Ninh said, with Banh Com, the most important is how to stir fry.
Children and grandchildren in the family also have to learn many years to be able to stir fry proficiently to produce delicious cakes, ensuring inherent flavor. In addition, the feature of Banh Com Nguyen Ninh is completely not mixed with flour, only made of pure young glutinous rice and not ground to avoid losing flavor. The bypassing of the grinding stage but the smooth clammy crust is the Nguyen Ninh family's secret.
Eating the Banh Com seems to see the whole of Hanoi autumn with the fragrant of young glutinous rice, the rich harvest within your hands. Eating a sweet Banh Com, it is like seeing the love of Hanoi people with the profound meaning from thousands of generations of hope for the sweet and loving couple forever.
Coming to Hanoi, do not forget to buy as gifts for your family and friends of the small, beautiful Banh Com boxes, because it is like the elegance and quintessence of captital cuisine. Price of Banh Com Nguyen Ninh is very cheap, only 5k / small cake, 6k / big cake, if you buy a box of 10 pieces is 50k. Some of the delicious banh com along Hang Than street are Bao Minh 12 Hang Than, An Ninh 49 Hang Than …
5. Bun Thang
Bun thang is praised as a sophisticated dish in the stage of presentation and processing, the whole bowl of noodles looks like a colorful flower with yellow color of eggs, pink of lean pork pie, white of chicken and yellow chicken skin, yellowish of dry turnips arranged side by side, alternating with brown shiitake mushrooms, orange red of shrimp pemmican. On the top is the onions, sprinkled evenly and slices of red chili pepper fascinating.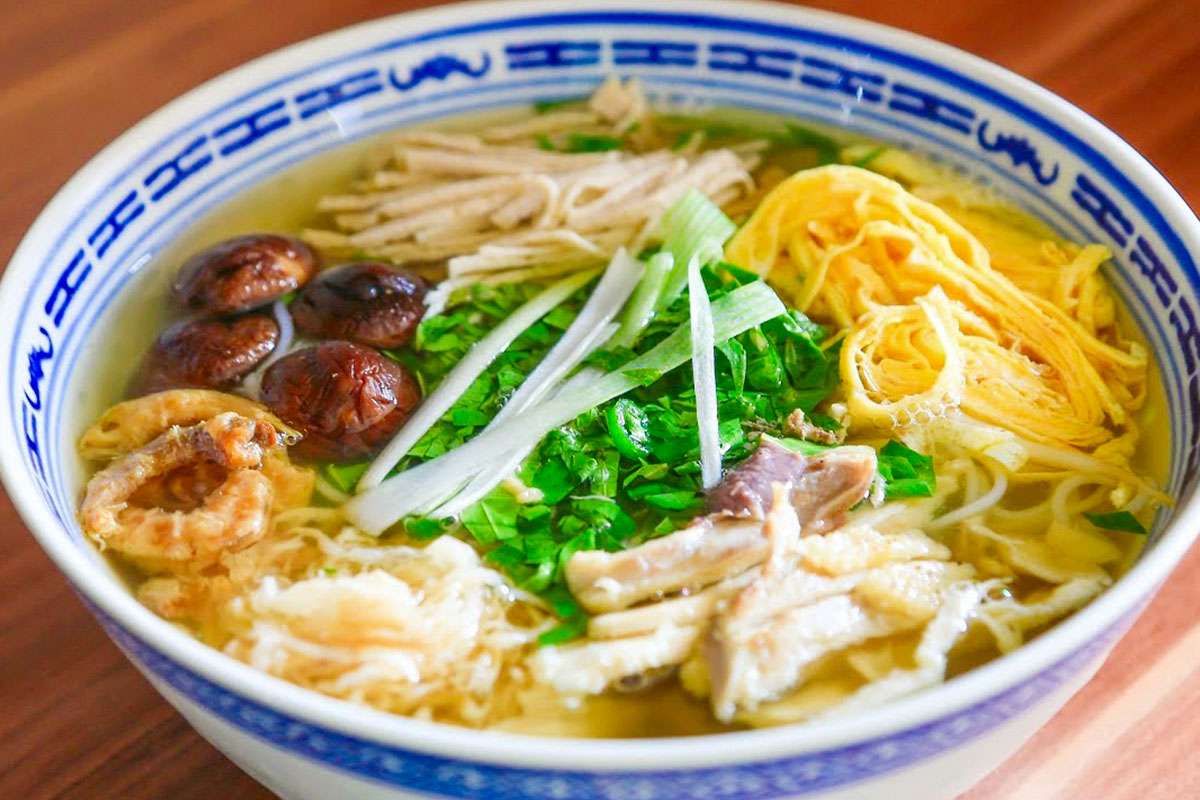 To cook a bowl of bun thang properly, generally extremely picky, sometimes it takes a whole day of preparation. Bun to make Bun Thang must not too big or too small yarn, moderate fiber, they will be match to lean pork pie striped cut. Next is the chicken must be of cock or soft and fat hen. However, the chicken must be chicken breast, tear to a small size, and then put on a corner of the noodles, next to the lean pork pie striped cut, then the fried egg.
Eggs should be fried so thinly – actually thinly frying is difficult and then cut into strips and placed on another corner of the bowl of noodles. Bun thang will be very delicious if there is more shrimp pemmican. Not many Bun Thang restaurants in Hanoi now have shrimp pemmican.
Firstly, because the price is too expensive, secondly, the stages to make a batch of shrimp pemmican are also sophisticated and time consuming. Therefore, it is true that bun thang is the most complicated dish among the dishes of Hanoi.
Eating bun thang is indispensable for radish, a few wings of mushrooms, a dip of chopsticks in the stem of Ca cuong and especially after all of the sweet taste, there is a little more shrimp sauce. A flavor that doesn't seem to be related to everything that is already in the bowl of noodles, but when combined together makes an unique flavor.
All of the above vermicelli, lean pork pie, chicken, eggs … have been sophisticated from the preparation to the finished product, then a pot of water is cooked to make bun thang  five times more sophisticated.
Usually the housewives choose the chicken bones and the bones of pigs, blanching the bones through hot water to clear the scurf, simmer with water. During the process of stewing must constantly skimming foam sticking to the pot, to make sure the water is as clear as possible.
The noodle soup is indispensable for dried shrimp heads. This type of shrimp, when dried, has a very specific flavor, giving rise to the smell of the pot of broth. Some people like to add a few pieces of slightly grilled dried squid, dried squid dried gravy makes the broth more sweet. However, there are also people who prefer the only vermicelli soup with flavor of dried shrimp.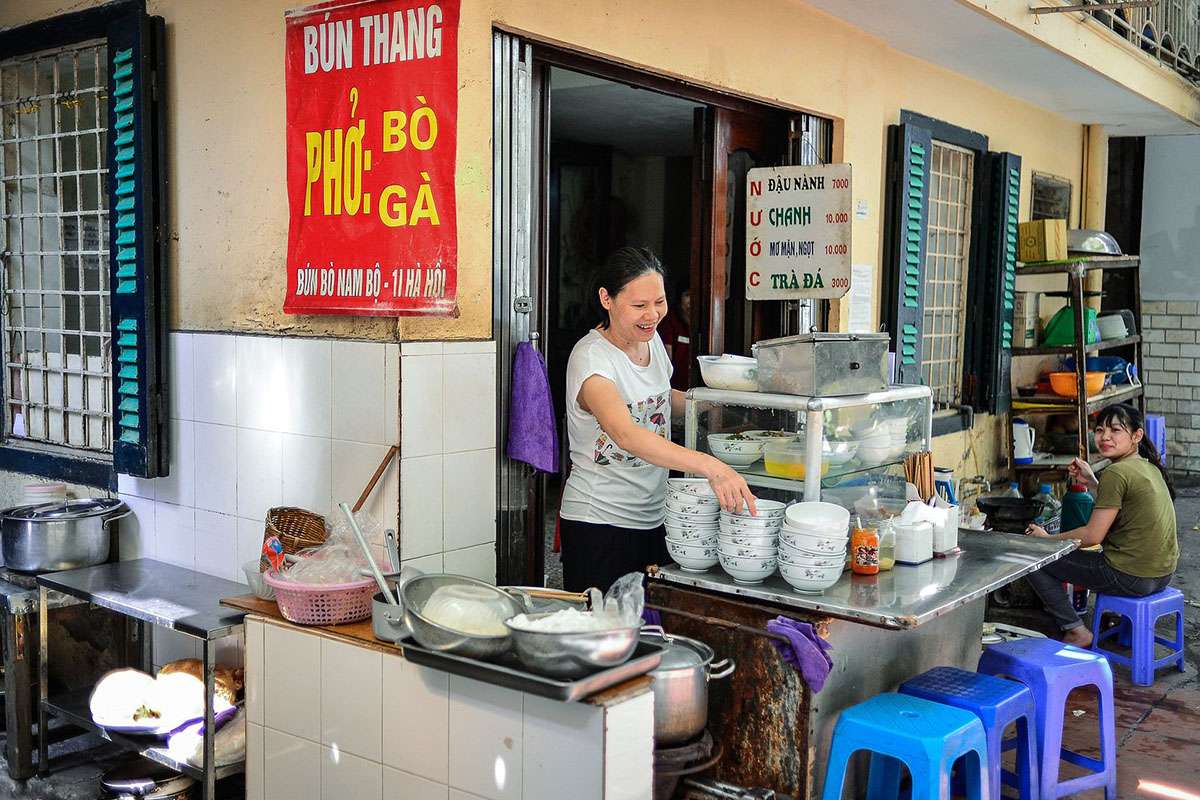 In the past, Hanoians have bun thang at the Lunar New Year Holiday only. After Tet, food leftovers much. Leaving is wasted, the housewives came up with this excellent dish. And it became a light snack after three days of ecstatic New Year with banh chung, chicken and bamboo shoots soup. Today, you do not need to wait until Tet to travel to Hanoi and enjoy bun thang. Now, traveling to Hanoi, you can eat bun thang all the year time because Hanoi now has a lot of delicious restaurants selling dishes originating from this land.
If you travel to Hanoi and explore the old town, you can enlistly enjoy Bun Thang at 48 Cau Go street, eat a bowl of vermicelli and then wander the small streets of the capital, or the Bun Thang restaurant at 29 Hang Hanh, Bun Thang at 11 Hang Hom, Bun Thang Thuan Ly at Hang Hom … Each bowl of Bun Thang costs about VND 50,000 but contains full culinary philosophy of Hanoi people. The rich ingredients combined together produce a frugal dish, the name Thang means the multi-ingredient dish combined together like a traditional medicine ladder.
6. Bun Oc
Bun Oc has long been an indispensable dish on the menu of Hanoi people and customers visiting the Capital. Bun Oc, seems to have to eat in Hanoi, it will be more delicious. The rustic food that through the talented hands of the ladies, the girls, the sisters … Ha Noi has become a very sophisticated cuisine nowhere else.
There are 3 most important factors to create an attractive finished product: fatty snails, aromatic suddenly and rich broth. There are also rice noodles, fresh vegetables, scallions, red onions, tomatoes, capsicum with little shrimp sauce and pork bones.
The best Bun Oc dish is when people use the snails, a kind of blue-green snail that shines on the nacre shells for processing. The delicious, crunchy, yellow meaty texture of snail helps the diners eat more and more delicious.
The writer Thach Lam once wrote about people eating Bun Oc like this, "how delicious people gather to eat Bun Oc! Is there anyone in the afternoon or late at night, passing by the harlot houses, and How long and diligently do you see them eating that gift? Sour snail soup wrinkles the weary and exhausted facial features, the spicy chili pepper rubs withered lips, and makes it sometimes clearer that the tears are more honest than the tears of love. "
Bun Oc Ms. Them (Hang Chai street), Bun Oc Hoe Nhai with dozens of booths crowded together on the small street, Bun Oc Ms. Hue (Dang Dung street), Bun Oc Ms. Hue at Hang Giay street and Bun Oc Ms. Giang (Luong Ngoc Quyen street) . Each bowl of Bun Oct costs about VND 40,000-50,000 depending on whether you eat more sausages, filet meats, beef, fish ball … or not.
The Bun Oc Ms. Them (Hang Chai street) has a long tradition of making this dish, which has been passed down for 3 generations in the family of Them, so there is always a special flavor of traditional processing. The sweet and sour broth flavored with snail taste adds a bit of pungency of fresh peppers captivating diners. A little smell of shrimp sauce rises but not strong but very aromatic and pleasant. The golden snails are crispy, greasy, textured.
A bowl of bun only adds a few stalks of onion, a few pieces of tomatoes and a few herbs, but it is enough to attract diners. If you are a bit more luxurious, you can use a little more blanched beef to increase the flavor. That's why her vermicelli noodle sold very well in the early morning, causing many customers to come back either to pity to return or to wait for quite a long time.
7. Com Lang Vong
Com Lang Vong is a culinary specialty of Vietnam in general and one of the most famous specialty of Hanoi. This is a typical product of Vong village (also known as Hau village) which is now Dich Vong Hau ward, Cau Giay district, Hanoi.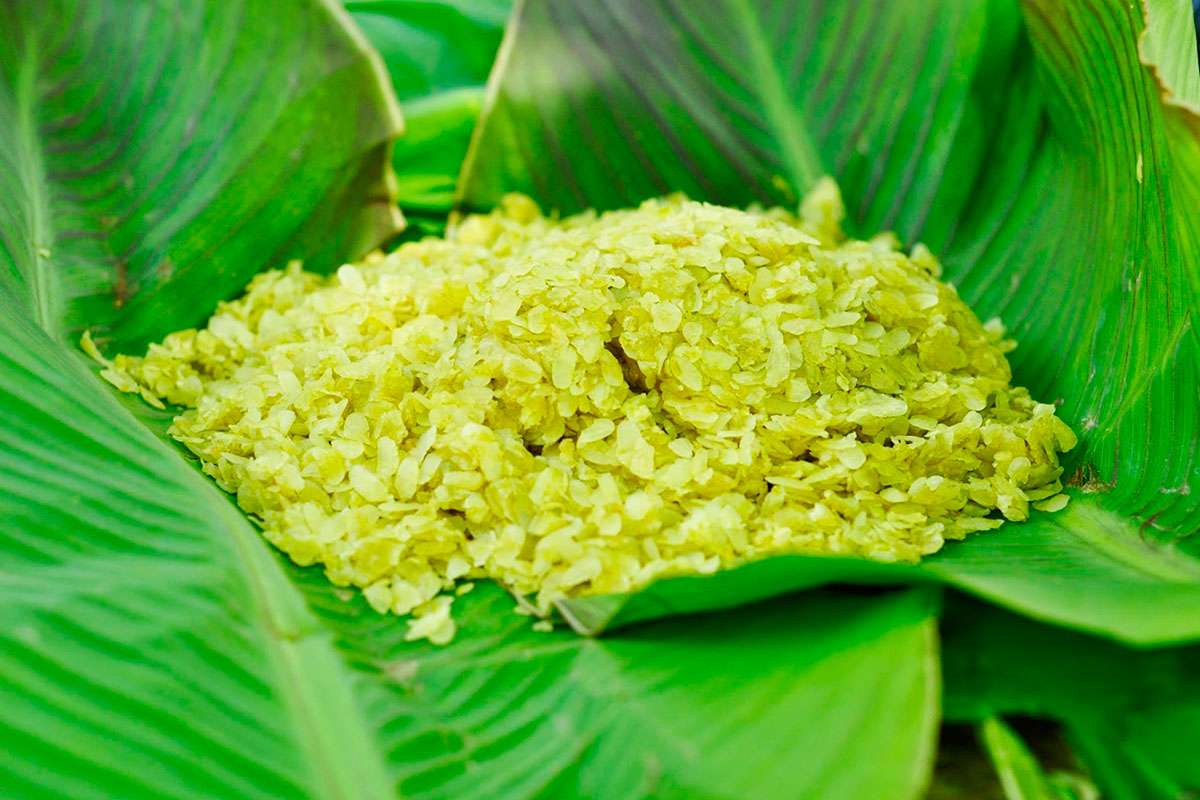 The history of Com Lang Vong: The making of Com (Vong village), originated from the legend: In the fall of a thousand years ago, when the rice plants began to bend, it rained heavily, strongly wind, broken dikes, and the highest rice field copper also drowned. Vong village people had to cut those young rice flowers to bring them to roast dry, eat gradually, fight hunger. Unexpectedly, this reluctant product has its own flavor, very attractive, making Vong village people often make it to have fun when autumn comes.
Every time you do it is a time to draw experience, create more and more green rice kernels, thinner, thinner and more fragrant. Com Lang Vong pass over the village bamboo groves, according to the gift packages, the hawkers to their relatives, to the discerning playboys, and then become the specialties of King Ly dynasty (1009-1225), become the famous elegant dish of Trang An people.
Com Vong village – The brand has been affirmed: Com is produced in many places, only Com Vong village are the most delicious, and is an elegant gift to collect. Only Com from Vong village people, not Com at Me Tri, or other places are praised in poetry.
Vong village people have a way of making Com with their own secrets, only Com Lang Vong is really fragrant, sweet, and colorful. Com Lang Vong with the scent of Sua flower, the autumnal cold breeze, and the songs mingling together make up a romantic Hanoi autumn, a culture etched deeply into the souls of the people of Hanoi ancient and now.
Time to eat delicious Com: The autumn Com's season lasted nearly 3 months, starting from the 1st of the 7th lunar month onwards. If you want to eat delicious Com, you have to wait until the harvest, starting from July to October.
It was in the fall, the season of Hanoi's sky and land. The sweet, soft, green color of the young rice kernels depend on the beginning, the middle and the end of the season. By the end of the month, Com Moc is the last sticky rice's pieces of large and hard seeds which are usually roasted into dried or reduced grains, and prepared for eating in the next season.
Com Moc must also have the green color of old seedlings mixed with gold to be pure, while the Com of pastry will look green and fresh, but the bitter quality will not taste real. Freshly Com is delicious and taken away can still ensure a quality taste for a few days if carefully wrapped with fuchsia leaves and lotus leaves.
How to preserve Com: Com wrapped in two layers of lotus leaf. The inner layer is a cool and green fuchsia leaf that keeps the Com from drying and does not fade with precious emerald green. The outer layer is a lotus leaf with a faint, serene aroma.
In addition, Com wanted to eat longer, can be stored at temperatures below 10 degrees C, can use the freezer compartment of the refrigerator for storage, unlimited storage time. Com from the freezer compartment, freezing, bringing out, drying in front of a fan to defrost for 15 minutes will return to a fresh, soft and tender state but only recently made.
Dishes from Com: Com Vong freshly eaten, or served with bananas, delicious teapot is probably the most elegant. However, Com can also be used as a raw material to make many dishes such as banh com, sticky rice of com, com sweet soup….In particular, banh com is the most popular, delicious com must be made from Vong village.
8. Banh my 25
Banh my is a favorite dish of many tourists coming to Hanoi. Hanoi has many famous banh my shops, with all kinds of prices from affordable to expensive. In particular, Banh my 25 Shop is a place many international visitors come to enjoy the bread of Hanoi people.
When reading on internet, I saw a good review of those who have ever been to the Banh my 25. Because I was quite curious about the bread shop, I also decided to come and try it. And indeed, I was quite surprised that for about 2 hours sitting in the shop, most of the customers who came in line to buy were foreign guests.
Ms. Malan – a traveler shared: "When I came to Hanoi, I found information about the attractions and food about this city on TripAdvisor. There were quite a few referrals so I went to try it. This is my first time eating bread in the old town of Hanoi, I find it tastes better than the places I've ever eaten. Moreover, the store owner was very enthusiastic when recommending me to choose the delicious ones. "
The price of a Banh my 25 ranges from VND 25,000-35,000 / piece depending on the bread inside is pate, egg, chicken, barbecue pork or mixed. You can enjoy Banh my 25 at 25 Hang Ca or at 60 Lo Ren.
9. Banh tom Ho Tay
American television channel CNN has listed banh tom Ho Tay as one of the dishes visitors must try when visiting Hanoi.
Banh tom started popular in the 1930s, at that time there were many street vendors gathered along Thanh Nien Street for sale. By the time the area became busier, small Banh Tom stalls were opened and Banh Tom Ho Tay began to be favorited.
Banh Tom Ho Tay is made by the culinary elite of Ha Noi people. True to the name of Banh Tom Ho Tay, the shrimp (tom) material chosen to be made is freshwater shrimp from Ho Tay (West Lake). Because shrimp caught in West Lake are usually firm meat, have sweetness and when fried its shell into red.
After washing, shrimp will be mixed with flour and fried. In the process of frying, cook must pay attention when the crust turns yellow (color of cockroach wings) are crispy then put out and drain the oil.
Ho Tay shrimp cake with delicious aroma is often eaten with sauce made with spices of chili, garlic, sugar, green papaya … together with some fresh vegetables, making Hanoi's famous dish become more attractive. In particular, the West Lake banh tom must be eaten hot because at that time the crust just keeps the crispness and the shrimp are fragrant.
You can enjoy Banh Tom Ho Tay at Thanh Nien Road or at 49 Phu Tay Ho, Hanoi
10. Egg Coffee
People who love egg coffee will know Giang coffee shop, one of the famous coffee shops in Hanoi's old town. Giang Coffee is the first address to give birth to a drink associated with the taste of Hanoi cuisine. Mr. Giang, the founder of Giang coffee shop today, has created egg coffee from the capuchino recipe when he was a barista at Metropole Hanoi Hotel.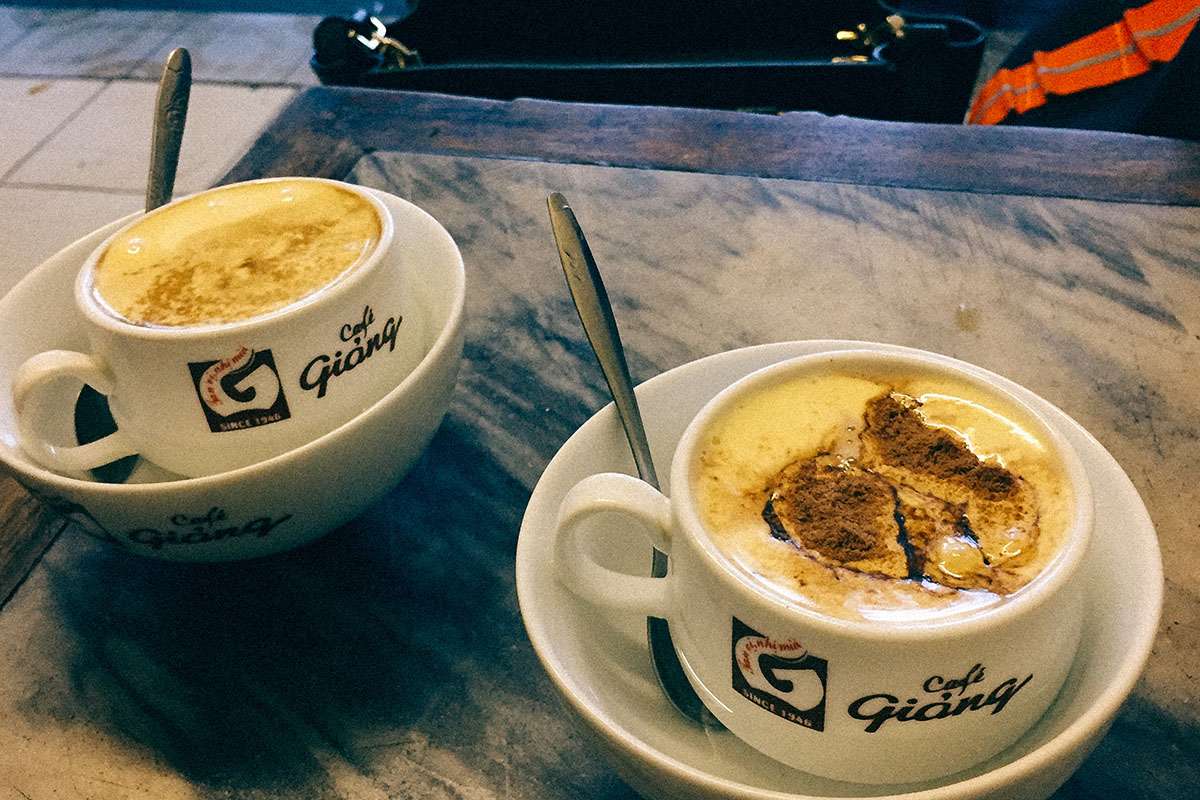 Today, egg coffee appears in many cafes, but egg coffee in Giang is still an address chosen by many visitors. CNN recently also added egg coffee to the list of certain delicious dishes to enjoy in Hanoi.
Best Restaurants in Hanoi
1. JW Cafe
If you are looking for the best place to eat in Hanoi, you should definitely visit JW Cafe. As one of the top restaurants in Hanoi, JW Cafe offers a sumptuous buffet that serves Vietnamese food, international dishes, fresh seafood, bbq and excellent sweet treats. Your taste buds will be satisfied with specialties from well-known cuisines, such as China, Japan, Korean, and the Mediterranean. At Hanoi's best buffet restaurant, you will be impressed not only by the quality of the foods, the variety of the dishes but also by the stunning lake view of the restaurant and the thoughtfulness of the staffs.
Address: 8 Do Duc Duc, Nam Tu Liem, Hanoi, Vietnam
2. Duong's Restaurant
My name is Hoang Duong, my food journey started when I was a young boy living in the village. My Vietnamese food passion was ingrained when I was a child and watched my father preparing my family meals. My father was a master in the kitchen and he instilled in me the importance of using fresh ingredients when cooking the family meals.
As I traveled down the road to where I am now, I kept building knowledge and authentic cuisine recipes learnt from my father previously. I had a belief that whilst freshness of ingredients was a core key, another key to deliver dishes with full of flavor was to use only the best local produce. My influence makes the seasonality of produce the most important aspect of the menu here at Duong's Restaurants, this is the reason why the menu often continues to evolve in line with the availability of produce.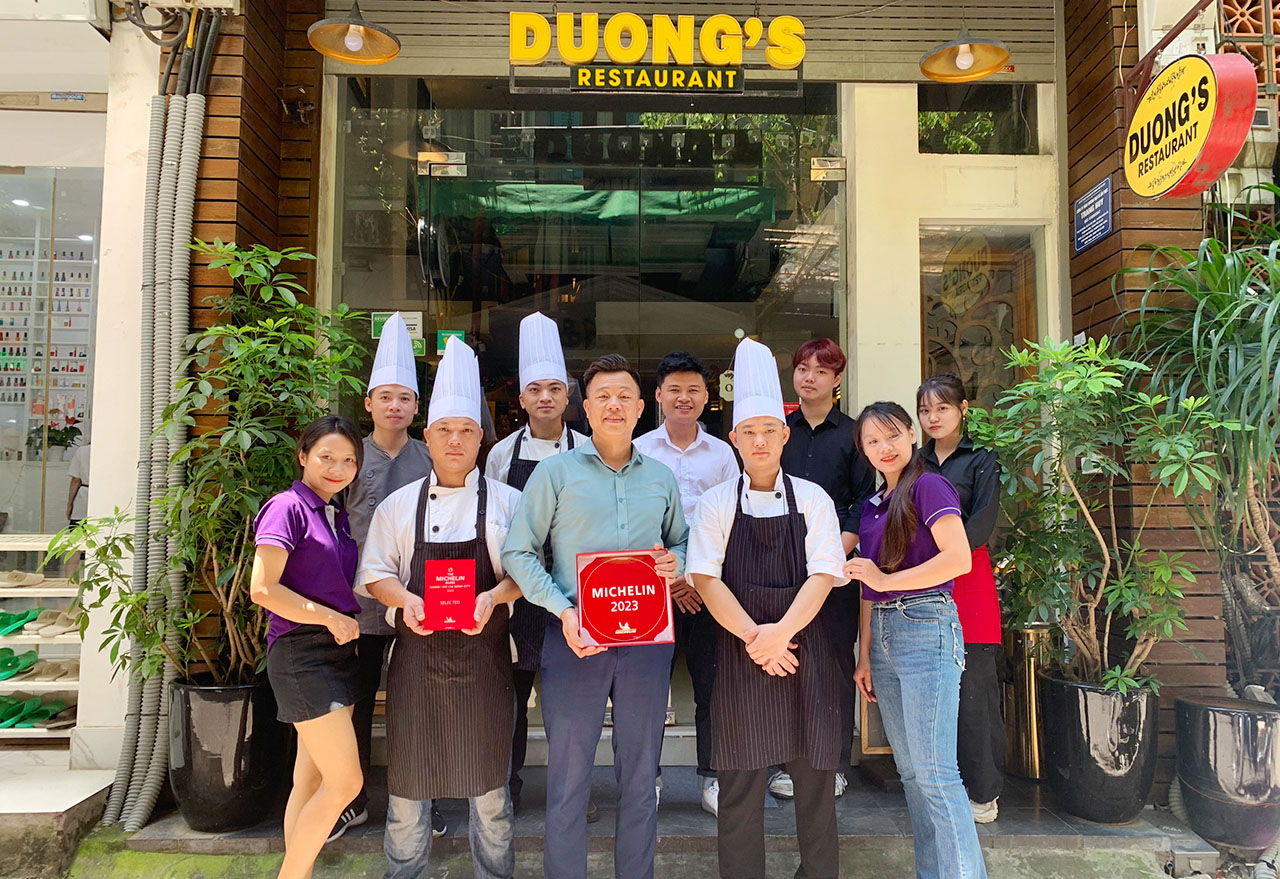 I am proud to launch Duong's Restaurants & Cooking Class as my first solo venture and the first leg of my journey and vision. The 1st one is in Hanoi — Duong's restaurant in Ngo Huyen street then the one in Ma May street marked as my 2nd Duong's restaurants in Hanoi.
Most restaurants in Hanoi organize cooking classes. This is a good opportunity for visitors to explore Vietnamese culinary culture. Don't forget our class: Duong's cooking class – Operated by Topchef Vietnam
I am honoured to share this journey with my family, friends and most importantly, with you — our beloved customers. I hope you will enjoy the journey that I am going to take you on where I'll beautifully present you a mix of traditional Vietnamese dishes with Vietnamese / French fusion dishes.
Locations:
Duong's Restaurant
27 Ngo Huyen Street, Old Quarter, Hoan Kiem District, Hanoi, Vietnam
Duong's 2 Restaurant
101 Ma May Street, Old Quarter, Hoan Kiem District, Hanoi, Vietnam
Reserve Now
3. Essence Restaurant
Located on the ground floor of Essence Hanoi Hotel, the Essence Restaurant offers authentic Vietnamese dishes in an elegant, refined setting. Featuring an exotic décor which draws on the aesthetics of both colonial Vietnam and cutting edge contemporary design, Essence Cafe & Restaurant is considered by many as one of the best restaurants in Hanoi.
Address: 22 Ta Hien, Hoan Kiem, Hanoi, Vietnam
4. Cloud Nine Restaurant
To be on Cloud Nine is to be in a blissful state of happiness. A number of conflicting theories abound as to the origins of this phrase. One of the most popular attributes it to the fluffy white cumulonimbus. This is the ninth cloud out of ten types first identified in the 1896 International Cloud Atlas which rises as high as a cloud can go, hence the sense of being 'on top of the world'. Others attribute it to the mystical divine number nine or to Buddhism which says cloud 9 is a stage in the search for enlightenment.
We chose to call our new restaurant Cloud Nine because we are confident after dining here you will feel extremely happy and satisfied. Located on the 9th floor and encased in walls of floor to ceiling windows, with soft cream drapes, the 360 degree views across Hanoi's rooftops, Hoan Kiem Lake and Red River are breathtaking and inspiring. Flooded with light and a feeling of openness the concept of seeing the outside world is just as important as what is within.
The restaurant and bar area are classically styled calling to mind an Indochina area. A color palette of black, white, creams and blue-greys partners with geometric shapes of striped furnishings and square patterned floor tiles.
The menu features the very best in authentic flavorful Vietnamese cuisine including dishes from all regions of the and an extensive selection of favorite international fare. Creatively presented and technically exquisite each dish takes the diner on a culinary journey through food.
While no one really knows how the term Cloud Nine came about, one thing we are certain about is that visiting Cloud Nine gives the feeling one is dining high in the clouds above Hanoi.
Address: 27 Hang Be, Hang Bac, Hoan Kiem, Hanoi, Vietnam
5. 3 Spoons
A lively restaurant with skyline views over Hanoi, 3 Spoons from InterContinental Hanoi Landmark72 not only offers extensive breakfast buffet, but also a choice of three cuisines and interactive open stations, where guests can witness our chefs' inspiring craftmanship.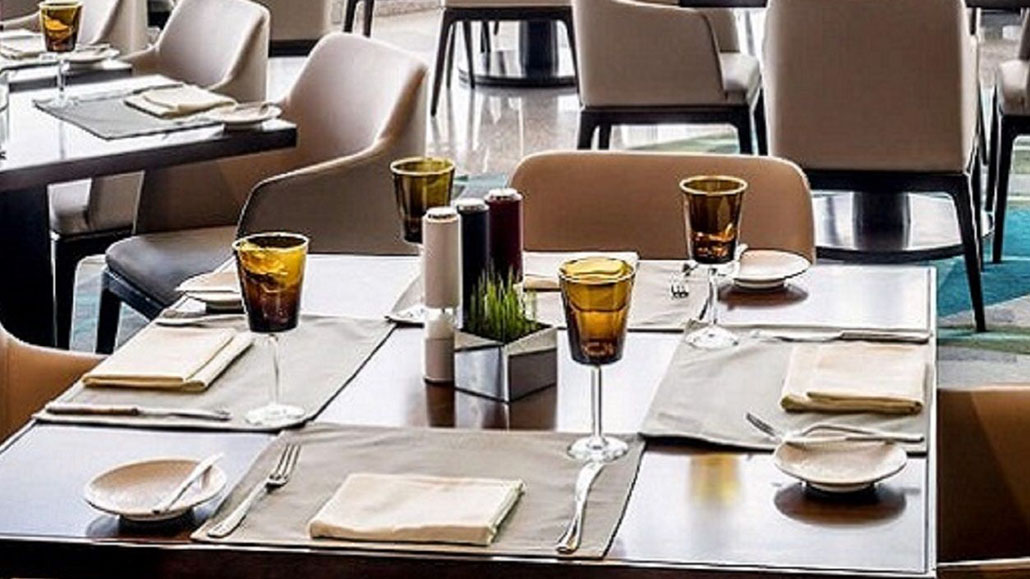 Sample authentic dishes from Vietnamese and Chinese cuisines, savour fresh local and imported seafood from the Japanese kitchen, or enjoy fragrant Italian breads, pasta and stone-oven pizzas.
3 Spoons' Chef de Cuisine Doan Trong Dat shared: "One of the values that 3 Spoons has upheld to is serving only fresh, high-quality organic ingredients sourced from mainly local farms right here in Vietnam. Everything is carefully selected and examined to make sure every dish we serve at 3 Spoons is InterContinental standard".
Address: Keangnam Hanoi Landmark Tower, Hanoi, Vietnam
6. Mâm Cơm Việt Restaurant
Mâm Cơm Việt is not only the symbolic meaning for Vietnamese culinary traditions, cultures but also humanistic values of spiritual, ritual and practical heritages in each family. Family values are expressed through a meal of two to three different generations living under one roof, through the way children respectfully invite grandparents, parents, the way we pay attention to care and pick up food for each other.
Sitting together, talking about daily topic while eating is also the way each Vietnamese child has early life awareness which influences on shaping their worldview and thought.
We want to convey meaningful messages of Vietnamese spiritual and cultural values ​​to customers visiting our restaurant. Moreover, we want to bring you closer to the traditional culinary of Vietnam. We truly hope that Mâm Cơm Việt is not just a restaurant where we enjoy lunch and dinner, we would like to make it as a home away from home for customers where they can spend time gathering together, enjoying many delicious typical Vietnamese foods.
Our desire is to bring peace, happiness, rusticity, honesty to our beloved customers so that they can experience the daily meals as millions Vietnamese. Hence, Mâm Cơm Việt is a special name and memorable impression; wonderful highlight of your adventure to our motherland.
Nothing could be fantastic than savoring tasty lunch or dinner whilst immersing yourselves in romantic atmosphere of our restaurant, enjoying hustle and bustle view of the Old Quarter through the large and wide windows. Above all, with enthusiastic, friendly team, we always thrive our best to listen and meet the of various customers all over the world from every single details.
Address: JM Marvel Hotel, 8, 9, 16 Floors Hang Da, Hang Bong, Hoan Kiem, Hanoi, Vietnam
7. Era Restaurant
Well-located in the very heart of the vibrant Old Quarter of Hanoi, also in the walking street Ma May, ERA Restaurant is one of the best choices for Traditional Vietnamese Food
At Era our vision is to become one of Vietnam's leading restaurant brand serving modern Vietnamese cuisine with high quality and innovative ideas but never forgetting the roots and value off true and authentic Vietnamese cooking.
Let our menu take you on a culinary Vietnamese journey stimulating the senses and taste buds.Colors, flavors and fragarances off our famous and not so famous national and regional dishes are combined and exquisitely presented. Dine at Era and fall in love with Vietnam.
Address: 48 Ma May street, Hang Buom, Hoan Kiem, Hanoi, Vietnam
8. Blue Diamond Rooftop Bar & Restaurant
The 13th floor has taken on a new identity through some inspired design. A spiral staircase leads from the Gourmet Corner to the first of three overlapping levels of stylish skylight bar space. The three terraces are at angles crafted from glass, metal and wood complemented by a monochromatic color palette of black, granite grey and hints of cream.
The first contains the bar, spacious open kitchen and seating areas. More chill out seating is on the second level while the top section is an exclusive space reserved for special occasions.
Welcome to the Diamond Sky Bar with sublime 360-degree panoramic views of Hanoi. Witness evocative Hoan Kiem Lake in its entirety and take in five bridges spanning the mighty Red River — Nhat Tan (the newest bridge), Long Bien (the most iconic), Chuong Duong, Vinh Tuy and a glimpse of Thanh Tri.
On a clear day, the Ba Vi Mountain range ('Lord of Mountains') 70km west of Hanoi is clearly visible. In front of the Red River, spy sections of Hanoi's 3.85km-long mosaic ceramic wall peeking out in between the buildings. This wall is listed in the Guinness World Records as the longest pottery road in the world. It commemorates Hanoi's 1,000th anniversary in 2010.
The bar will be one of the coolest places in Hanoi for watching at least three New Years' Eve freworks displays (across Hoan Kiem Lake, from Gia Lam and Thong Nhat Park). A personal touch features in the second level design. It resembles the profile of a grand piano, which in part, pays tribute to EHG Chairman's daughter. The meaning of her name embodies connotations of the word piano. This sparked the idea for its shape. In addition, a grand piano represents the concept of elegance and luxury to which EHG aspires.
Address: No 32 Lo Su St, Old Quarter, Hoan Kiem Dist, Hanoi, Vietnam
9. Red Bean Cau Go Restaurant
The view from Red Bean Cau Go's floor to ceiling windows and upper terrace leads your eyes across the treetops across the entire Hoan Kiem Lake making this Red Bean restaurant one of the most iconic. Situated on the 7th floor of La Siesta Premium Cau Go, the restaurant is classically styled in a fusion of Vietnamese and French elements. A color palette of black, white, creams and blue-greys, together, sophisticated furnishings, checkered floor tiles and latticed floor to ceiling windows with soft light drapes transports you back to an Indochina era.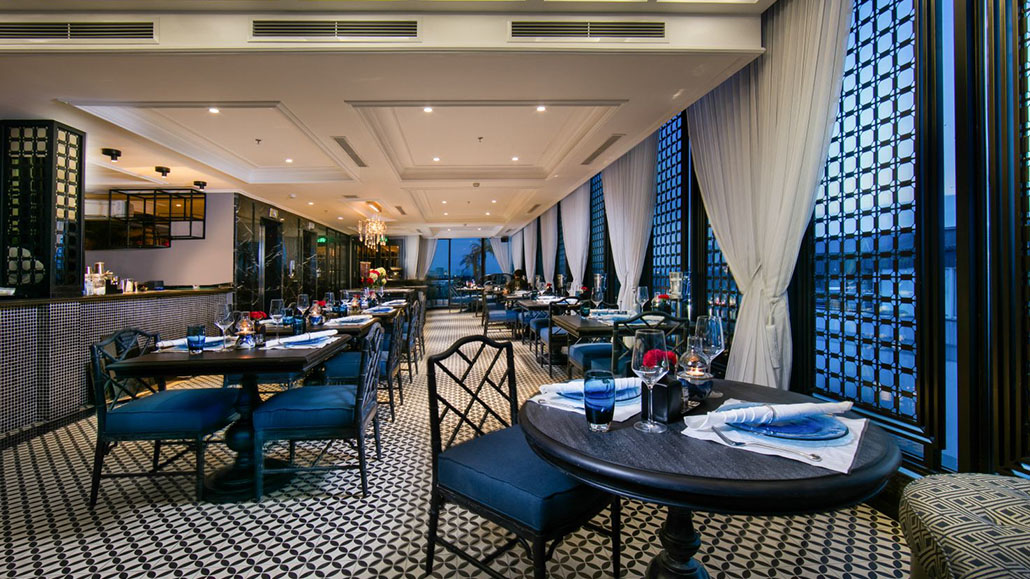 At night twinkling city lights and multi-colored reflections across Hoan Kiem Lake create a romantic backdrop.
Address: No. 1 Cau Go, Hang Bac, Hoan Kiem, Hanoi, Vietnam
10. Home Moc Restaurant
With one foot in the past and one stepping boldly into the future, Hanoi is poised to become the next big thing on the cultural world map. Behind every door, every shop, every smile and every corner, there is an untold story waiting to be told.
And behind one of those doors is HOME Mộc Hanoi, a classic French Villa that has been meticulously maintained through the years. Taking everything that makes Hanoi a magical place and concentrating it at one spot with a striking wooden design and furnishing, HOME Mộc will enthrall you at first sight and offer you memories that will be spoken of for many years to come.
At HOME Mộc we have dedicated ourselves to bringing you the very best of Vietnams rich and varied palate with a special focus on the most exquisite seafood available on the market. Each ingredient has been sourced from local vendors and handpicked with utmost care by our expert chef in order to give justice to our recipes that have been handed down through generations.
A meal at HOME Mộc is not just simply dinner; it is a journey through the culture, the history and the heritage of Vietnam through the senses of its people through time. Every last grain of rice presented on your table represents the indomitable will of the nation to bring you the very best and to make sure your soul is in complete equilibrium by the time you take your leave; joy is best when shared.
HOME Mộc seeks to mirror the national spirit of Vietnam; the relentless struggle for improvement and perfection, with one foot in the past and another boldly stepping into the future.
We believe it is important to anchor ourselves in our roots; Vietnamese cuisine needs to reflect local traditions and well-kept family secrets. We pride ourselves on offering the very best the nation has to offer and hope that you will come to share our passion for the food that we love and cherish.
Address: 31 Van Ho 2, Le Dai Hanh, Hai Ba Trung, Hanoi, Vietnam
Experience eating in Hanoi
Referring to the travel and dining experience in Hanoi on the Internet is a good way to enjoy delicious food and avoid unnecessary hassle. Here are a few experiences that we have gathered.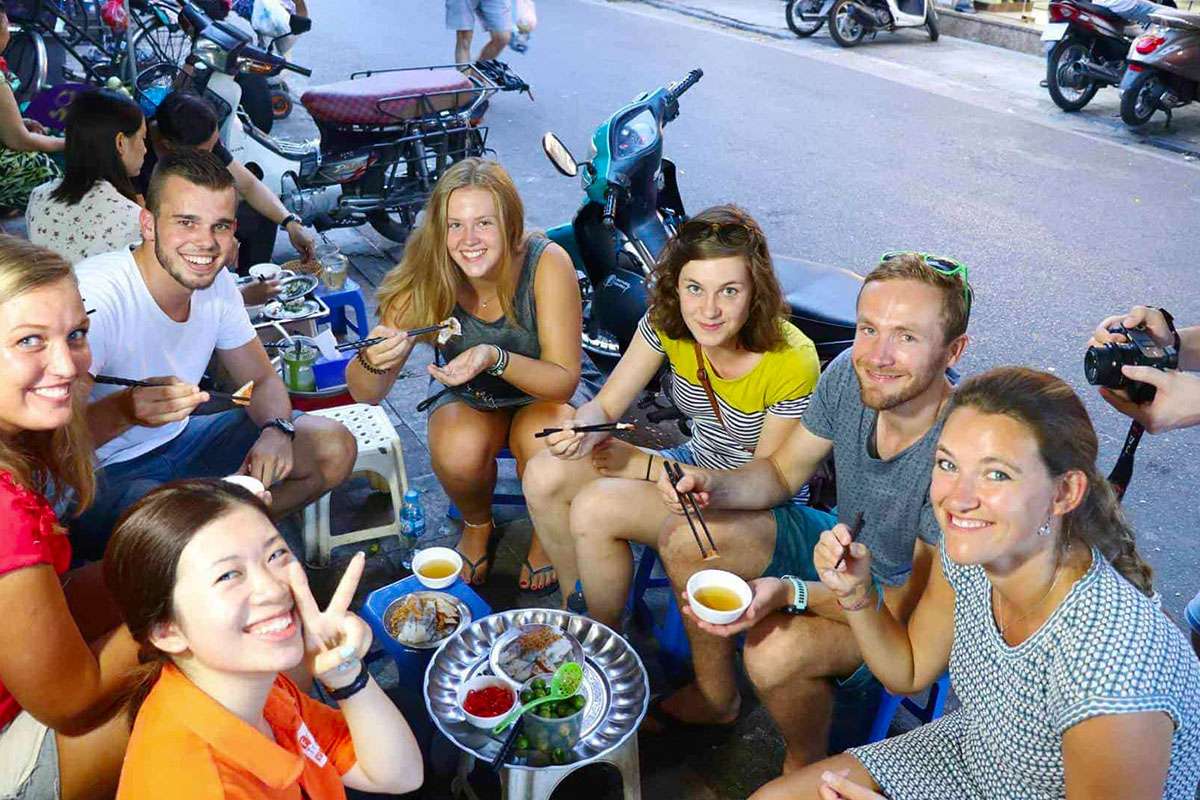 1. Research about restaurant on internet in advance
Just like anywhere else, when visiting Hanoi, you should carefully research information such as service prices, reputable dining addresses … This will help you not to fall into the trap of overcharge as well as avoid points that often ripped off. In addition, this also helps you understand more about Hanoi's culture, habits and differences compared to other localities. Compared to the general premises, prices of some services in Hanoi are often higher.
Currently, Hanoi food review websites such as Tripadvisor are very popular on the Internet. You can go to these sites, find out the address of cheap and delicious restaurants in Hanoi so you can enjoy Ha Noi specialties without worrying about being out of budget.
In addition, you can also avoid the bad quality restaurants that are expensive, or get overcharge from tourists or even avoid cursing vermicelli or cursing porridge in Hanoi, where the sellers curse customers like singing. If you can hear people pinching and still eat delicious or want to try eating "cursing vermicelli", you can try.
2. Should choose the menu with price or ask prices before eating
Hanoi is the paradise of street food stalls, but this street food culture sometimes makes it difficult for visitors. Because finding the menu listing prices in these stores is not easy. Many shops even quote the price with three zeros (0) in the back without leaving an important digit in the front. Customers ask carefully, they will quote the price. And easy-going customers will fall into the case of being charged over (high as being in the sky)
Therefore, when you go to any restaurant, before you eat, you must ask the price because if you finish eating and drinking then you cannot argue. This may make the shop owner a little uncomfortable, but it is more than an unexpectedly high price after eating. However, there are some cases that even though the price is agreed, but then still receive prices other than the negotiated price because some things seem to be just extra items, subsidiary dishes or spices also charged.
To attract tourists, many restaurants and bars often offer very attractive prices, but when calculating the fee, visitors have to pay additional fees sometimes 3-4 times higher than the initial listed price. The most common trick is to charge extra for vegetables, noodles, fish … of hot pot with the explanation that the price listed on the menu is just the price of hotpot.
Normally, restaurants serve spices such as lemon, chili sauce, including wet towels, napkins … However, at tourist destinations, visitors may be charged if they use things this. Therefore, before using or asking for anything more, visitors should ask if there is a charge. This is not too strange in some restaurants doing business "snatching". So to be sure, you can choose to pay immediately.
3. Check the invoice carefully
In addition to "cutting guillotine", many restaurants pretend to be "doting", charge wrongly, charge extra dishes, add plates or record some dishes that diners do not order. Therefore, you need to check the bill to see if it is the correct order, the number of dishes and the total amount before paying.
4. Don't be afraid to bargain
Not only in Hanoi, saying overprice is common in most tourist destinations in the world and in Vietnam. If you are not observant, it is very easy to be overcharged with the price "in the sky" and fall into the feeling of being cheated, eating and picking uncomfortable into yourselves.
Especially for foreign tourists or tourists from other provinces (recognized by voices), some of the women who sell goods in style of snatching in Hanoi or quote over with the price on the sky, so you need to bargain before buying food. Many women sellers in Hanoi always assume that foreigner or oversea Vietnamese customers are screaming at the same price because these customers default to a lot of money, just go to the shop once and leave, so they have to trick cleverly.
Many restaurants in Hanoi, especially in the Old Quarter, still do business in the old way, just cutting off any customers or visitors because who know when they come back. With regular customers, it's okay, they are easy-going, sell at the right price and sometimes add broth, add meat … but to strangers at the restaurant, the possibility of being slashed is very high.
Therefore, you must have a specific plan of places to play, check online to see if the shop has a reputation for cutting down customers or not and don't be afraid to bargain. If traveling in Hanoi, if there are any super bargain in the group, the better, maybe you will be filled with Hanoi specialties with surprisingly cheap prices!
5. Belong to the hotline phone number
Most of tourists have psychology that they don't to occur disputes on the road, they keep silent when being "hacked". However, this action is the factor that makes those "guillotine" increasingly more aggressive. The advice for travelers in this situation is to save the hotline numbers of local authorities to reflect in case of need.
The hotline to receive feedback on "chopping up", rowing, cheating and stalking tourists in Hanoi is 0941336677. This line is available 24 hours a day. In addition, visitors can also come to the information desk to support tourists at Ly Thai To Flower Garden on Le Thach Street to reflect.
6. Book a Hanoi tour package with tour operators
Finally, if you travel to Hanoi, you can book a package tour of Hanoi with travel companies. Experienced guides will take you to good restaurants to enjoy Ha Noi specialties, they know the price, so you will not be worried about being slashed. In addition, travel agencies can assist you with hotel reservations, rent a car, buy tickets to attractions, amusement parks, services or even bargain when buying to avoid being guillotined, overcharged.
Traveling to Hanoi, do not worry about being overcharged, it is only because you do not know how to choose a suitable restaurant and skillfully haggle, ask for a lower price. Wish you have a Hanoi tour with fully enjoying food, less spending money!