Dong Xuan Market (Chợ Đồng Xuân) is considered to be the oldest and largest market in Hanoi Old Quarter, associated with the development of the ancient Thanh Long citadel and today's Hanoi capital. Dong Xuan Market is not only a trade point but also a cultural and spiritual value that reflects the daily life of the people of Hanoi in the past.
Welcome to the bustling city of Hanoi, Vietnam, where a rich blend of history and culture awaits your exploration. One of the iconic landmarks of Hanoi is the Dong Xuan Market, located in the center district of Hoan Kiem. With its blend of ancient and modern French architecture, this market stands as a symbol of the city's vibrant past and vibrant present. In this article, we will take a closer look at Dong Xuan Market, its history, its offerings, and its significance to the locals and tourists. So grab your shopping bags and let's dive into the enchanting world of Dong Xuan Market!
A Glimpse into History: From French Administration to Modern Day
Chợ Đồng Xuân holds a significant place in the history of Hanoi. Built by the French administration in 1889, it has witnessed the transformation of the city over the years. Despite undergoing renovations, the market still retains its original charm. The latest renovation took place in 1994 after a devastating fire. Today, the market stands as a testament to Hanoi's journey through time and showcases a blend of ancient Vietnamese and modern French architecture.
In the old time, people considered Dong Xuan market to be the "stomach" of Hanoi, as the products of all regions were sold here. The book of Hanoi in the first half of the twentieth century has written: "Hanoi is located in the middle of the Northern Delta, but it also has prawns, tanks in the eastern region, and the eastern province of the province, with stag and deer deer in mountainous areas; Hanoi has mangoes, mangosteen in the South; tea and coffee in the Central Highlands."
Exploring the Vast Offerings of Dong Xuan Market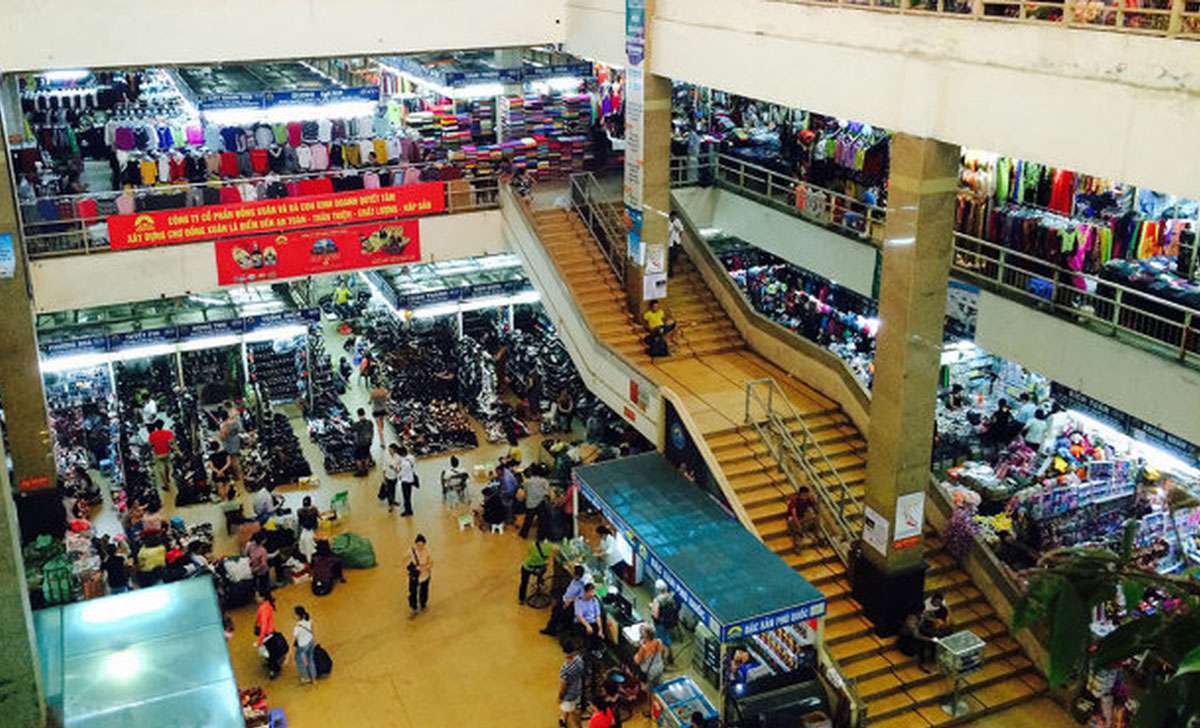 Chợ Đồng Xuân is a treasure trove for shopaholics and adventure seekers. Let's explore the various products and experiences you can find within its walls.
Clothing and Fashion Accessories
Are you a fashion enthusiast looking for unique pieces to add to your wardrobe? Look no further than Chợ Đồng Xuân. The market offers a wide range of clothing items, from traditional Vietnamese outfits, such as ao dais, to modern fashion trends. You can find both ready-to-wear and tailor-made clothing, ensuring you leave with a perfect fit. Don't forget to browse through the collection of fashion accessories, including hats, scarves, and jewelry, to complete your look.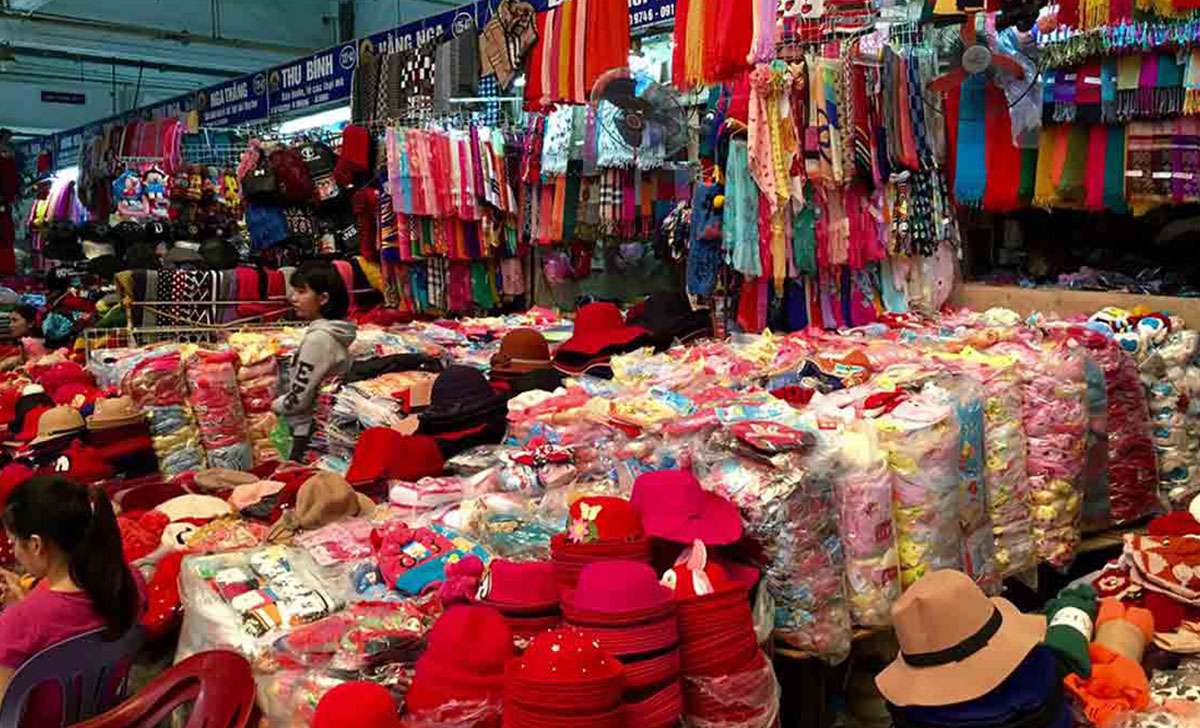 Household Items and Decor
If you're in search of unique souvenirs or decorative items for your home, Chợ Đồng Xuân won't disappoint. The market is a treasure trove of household items, ranging from traditional Vietnamese ceramics to modern home decor pieces. Whether you're looking for vibrant tapestries, delicate lanterns, or intricately carved wooden items, you'll find it all here. Take a piece of Vietnam's rich culture and craftsmanship back home with you!
Food and Local Delicacies
One of the highlights of Chợ Đồng Xuân is its vibrant food section. Step into a world of fragrant spices, fresh produce, and local delicacies. From street food stalls to small restaurants, you can indulge in a gastronomic adventure like no other. Try traditional Vietnamese dishes like pho, banh mi, or spring rolls, prepared right in front of your eyes. Don't forget to explore the market's food shops, offering a wide range of herbs, spices, and exotic ingredients to take home and enhance your culinary skills.
Cultural Souvenirs and Handicrafts
Immerse yourself in Vietnam's rich cultural heritage by exploring Dong Xuan Market's selection of souvenirs and handicrafts. From traditional arts and crafts to handmade textiles, you'll find a variety of unique pieces to cherish. Take home a wooden sculpture, a hand-painted silk painting, or a handmade pottery item as a memento of your visit to this vibrant market. These souvenirs not only serve as reminders of your trip but also support local artisans and craftsmen.
Electronics and Gadgets
Chợ Đồng Xuân is not just about traditional products; it also caters to the tech-savvy crowd. The market houses shops selling a wide range of electronics, gadgets, and accessories. Whether you're looking for the latest smartphone, a digital camera, or simply need accessories for your devices, you'll find it all here. With competitive prices and a vast selection, Dong Xuan Market is a haven for tech enthusiasts.
Dong Xuan Night Market attracts tourists and locals
Dong Xuan Night Market was born in 2003 to diversify the activities of the market and serve the shopping and entertainment needs of tourists. It also organizes folklore activities such as xam singing, cheo singing, Bac Ninh mandarins …. and has been highly appreciated by the Vietnam Center for Music Arts Development in the restoration of traditional culture. system.
Chợ Đồng Xuân is part of our cooking class program. When participating in Duong's cooking class, you not only receive cooking lessons but also visit the markets in Hanoi's old town and enjoy street food.
Dong Xuan Night Market connects with Hang Dao – Dong Xuan Walking Street to form a chain of night markets extending from the Lake shore to Dong Xuan Market, attracting a large number of Hanoians and foreign tourists to visit and do their shopping.
The Significance of Dong Xuan Market in Hanoi's Culture
Chợ Đồng Xuân holds cultural significance beyond its role as a shopping destination. It serves as a gathering place for business activities and a reflection of the city's history and traditions. The market brings people from all walks of life together, creating a vibrant atmosphere that showcases the spirit of Hanoi. It is not just a market; it's a cultural hub where locals and tourists alike can experience the essence of Vietnam.
Frequently Asked Questions about Dong Xuan Market
Q: What are the operating hours of Dong Xuan Market?
A: Chợ Đồng Xuân opens daily from 6:00 AM to 6:00 PM. However, it's worth noting that certain sections of the market may have different operating hours.
Q: Is bargaining common at Dong Xuan Market?
A: Yes, bargaining is a common practice at the market. It's advisable to negotiate prices, especially when purchasing non-fixed price items like souvenirs or clothing.
Q: Are there any food stalls or restaurants in Dong Xuan Market?
A: Yes, you'll find numerous food stalls and small restaurants within the market premises. They offer a wide range of Vietnamese dishes and local delicacies.
Q: Can I find branded goods at Dong Xuan Market?
A: Chợ Đồng Xuân is not known for selling branded goods. It primarily focuses on local products, handmade items, and traditional Vietnamese crafts.
Q: What is the best time to visit Dong Xuan Market to avoid crowds?
A: If you prefer a less crowded experience, it's advisable to visit Chợ Đồng Xuân during weekdays in the early morning or late afternoon.
Q: How can I get to Dong Xuan Market?
A: Dong Xuan Market is centrally located in Hanoi, making it easily accessible. You can reach the market by various means of transportation, including taxis, public buses, or even on foot, depending on your location in the city.
In Conclusion
Dong Xuan Market is not just a shopping destination; it's an experience that allows you to delve into Hanoi's history, culture, and vibrant atmosphere. From clothing and fashion accessories to cultural souvenirs and local delicacies, the market offers a wide range of products to cater to every visitor's taste. Lose yourself in the maze of stalls, bargain with friendly vendors, and take home a piece of Vietnam's rich heritage. Chợ Đồng Xuân truly encapsulates the essence of Hanoi and is a must-visit for anyone exploring the capital city of Vietnam.
So, when you find yourself in Hanoi, don't miss the chance to dive into the vibrant world of Dong Xuan Market. Happy shopping and exploring!