In Vietnamese, "bún" refers to rice vermicelli. It's basically Asian spaghetti. It's slurpable and versatile, with endless combinations that make it taste new every time. You can eat bun with fish sauce or tomato broth, snails or grilled meats, wrapped in a spring roll, or woven into mini-bún blankets of joy in the form of banh hoi.
Of course, all noodle dishes aren't created equal. According to Helen Le, the host of Helen's recipe on YouTube, the best way to judge a noodle dish is by examining and tasting the broth and fish sauce. Here are five dishes that showcase the best of Vietnam's bun noodles and where to try it in Hanoi, the capital city:
1. Bún riêu
Bún riêu is a meat or seafood vermicelli soup with a distinctive crimson color. The broth gets its appearance from tomato paste and annatto oil, made from achiote tree seeds.
Freshwater crabmeat and blanched tomatoes are the soup's star players. Tamarind paste lends sourness to the broth, while airy bits of fried tofu contribute crunch.
Depending on the region, bún riêu might also come topped with beef, pork, snails or fish. Vermicelli noodles swim in the soup, adding balance to a dish that's both colorful and light. Add to that the requisite plateful of lime wedges, chili and greens — like banana blossoms and mint — and you have a perfect meal.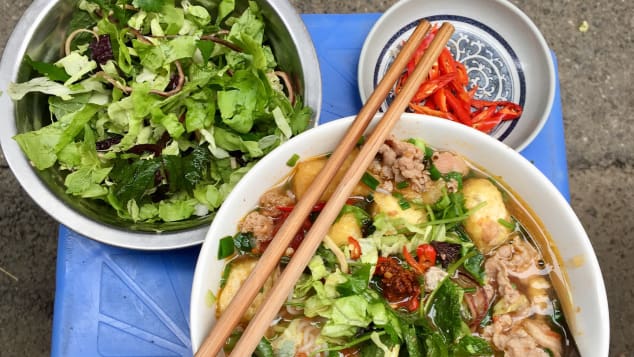 2. Bún chả
Bún chả is a local lunchtime obsession in Hanoi. A cold noodle dish, bún chả features hunks of charcoal-grilled fatty pork — cha — bathing in a blend of the ubiquitous fish sauce, vinegar, lime and sugar.
Vermicelli noodles, fruits and veggies, such as carrots and green papaya, accompany the glorious pork.
"It's a deconstructed noodle salad," says Le. Plus, it's a meal fit for a president.
3. Bún cá Hải Phòng
On the way to the Pandora-like islands of Ha Long Bay, you'll pass Hai Phong, one of Vietnam's most important seaports and, by extension, one of the best places in the country for seafood.
Bun ca Hai Phong, literally "fish noodles of Hai Phong," is much subtler than other, more flamboyant Vietnamese dishes.
"It's the contrast of textures that makes this dish interesting," says Le.
The fish — usually mackerel, carp, or catfish — is pounded into fishcakes then deep-fried. Traces of dill, tomatoes, green onions and perilla — a mint-like herb — combine for a light meal.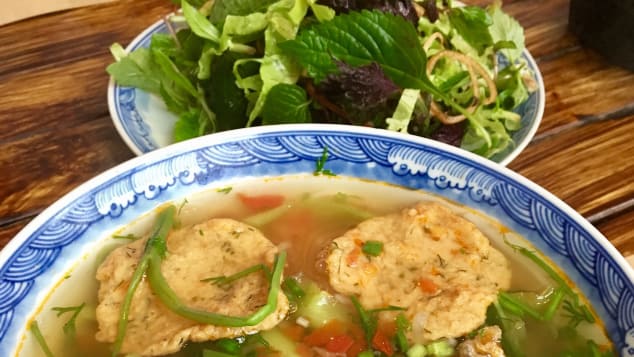 View more: Duong Hanoi Menu